International Salvage Union (ISU) annual statistics report weaker industry revenues and a dramatic fall in wreck removals, its president expressing concern at the industry's long-term viability as it is today.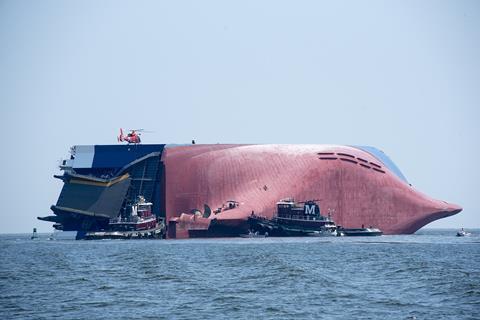 Gross revenues for ISU members dropped from 2019's figure of US$482 million to US$301 million in 2020 involving 182 services compared to 216 in the previous year. Lloyd's Open Form cases and revenues saw a slight increase in 2020 to 40 cases returning US$60 million compared with 35 and US$49 million in 2019. Described as 'significant' the decline in wreck removal income saw figures of US$98 million from 52 services in 2020, down from US$284 million from 101 services in 2019.
The figures translate into a 38% fall in income but it is the fall in wreck removal income that stands out recording a 65% drop. It is recognised that on an annual basis, activity and income is variable, something that is enhanced by the economic pressure on the salvage industry and the general trend towards a smaller number of larger and more complex cases.
ISU president Richard Janssen states: "There has also been some structural change in the industry in the last 18 months with the loss of a major player. That may have had an impact on these statistics but it is not possible to say for certain or to what extent." Adding: "Professional salvors protect the environment, reduce risk and mitigate loss. They also keep trade moving - demonstrated so clearly in front of the world's media with the refloating of the containership Ever Given in the Suez Canal this year. But there also has to be a concern about the ongoing provision of salvage services globally and the long-term viability of the industry as it is today. ISU continues to actively engage with shipowners and insurers to ensure we are aligned with them on the future challenges they are likely to face."
Any reduction in salvage capability will be of concern to the shipping industry and indeed should be to society as a whole given the potential environmental and economic damage from ship casualties. The industry is described as 'active' by ISU whose members, year-in, year-out provides in the region of 200 services to vessels in trouble.
By Peter Barker