The International Salvage Union (ISU) has published its Pollution Prevention Survey along with industry statistics for 2015, demonstrating a robust industry and its member's role in environmental protection.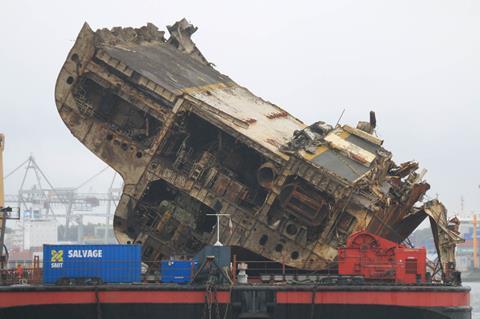 It is said you can get statistics to say anything. When accidents happen at sea it is easy to gather statistics such as: number of lives lost, tonnes of pollutant lost, monetary value of the losses etc. It is not so easy however to put into numbers the value of preventative measures by responders, simply because the losses may not have occurred.
Looking first at the annual pollution prevention survey, they leave no doubt as to the value of the salvage industry. It cannot be said for sure every tonne of oil or every container recovered would have become a statistic but it is clear the potential for environmental damage would be significant were timely intervention not available.
The methodology of the survey was updated two years ago when the threat of pollution was considered to be largely from VLCCs. As most coastal states judge most cargo to be potentially polluting the threat from for instance goods within containers are now also taken into account. Being the second year using the new method, first comparisons with a previous year can be made although of course historical data back to 1994 is still relevant when assessing the bigger picture.
ISU members provided 185 services to vessels carrying nearly 2m tonnes of potentially polluting cargoes during 2015, slightly down from 216 in 2014. The statistics break down the type of potential pollutant, bunker fuel for example standing at 66,247 tonnes (83,698 tonnes in 2014). Oil cargo showed more than a three-fold increase at 666,416 tonnes (194,880 tonnes in 2014) with chemicals down at 35,744 tonnes in 2015 from 102,939 tonnes in 2014. Bulk polluting/hazardous material for 2015 was 722,160 tonnes compared to 901,373 in 2014. TEU (tonnes equivalent) was 330,015 in 2015 a slight decrease from 356,265 in 2014 (21,941 TEU and 23,751 TEU respectively at nominal 15 tonnes/TEU).
Commenting on the figures, ISU president John Witte said: "Yet again our members' operations have delivered great benefit in helping to protect the marine environment from potential damage. Salvors provide vital services to both the shipping industry and wider society. Shipping is much safer than it was even twenty years ago but everyone in the industry should be aware that just one major casualty could cause an environmental catastrophe. And in many cases it is only professional, commercial salvors who are able successfully to intervene."
INDUSTRY STATISTICS
Turning to general statistics, ISU state it is a changing world for salvors, safer ships and better operating practices have generally reduced the amount of emergency response work for salvors but cases can now be more complex. Wreck removal activity continues to be an important source of income.
Gross revenue from all activities in 2015 fell slightly to US$717m from US$775m in 2014. The figures are for income received in the year but may relate to operations from a previous year. Total number of services recorded in 2015 was 212, the second highest since 1999, compared with 249 in 2014. The discrepancy between this figure and that in the pollution survey is due to some members not always responding to both surveys.
In January this column reported on the wreck removal of the vehicle carrier Baltic Ace from the North Sea and ISU reports this sector growing during the past decade, accounting for more than half of gross revenue, US$397m in 2015 compared to US$394m the previous year. This trend may indicate increasingly stringent requirements of coastal state authorities and the increasing complexity of some wreck removals.
Graphs accompanying ISU's report show interesting trends, one being the continuing downward trend for contracts using Lloyd's Open Form (LOF) compared with non-LOF cases ('dry' salvage) with 2014 seeing the lowest annual LOF contract numbers on record and this could be reflected in the final analysis for 2015. Revenue from LOF cases for 2015 at US$83m is the lowest in more than a decade. In contrast, revenue from non-LOF cases was the second highest at US$98m showing a gently rising trend. This and other analysis reflects the increasing trend to use other commercial contracts and terms instead of LOF.
Revenue derived from SCOPIC clauses in LOF cases increased significantly to US$139m in 2015. This may be due to combinations of reasons including higher than average number of low-salved-value casualties leading to an increase in the invocation of SCOPIC.
ISU president Jon Witte's speaks of how its members are proud to serve the shipping community making a major contribution each year to mitigating potential loss while also stressing the variability of the industry and fluctuations in the sources of revenue. He also addresses the reduction of LOF cases saying: "There has been a decline in the contribution of income from traditional LOF cases. That is offset to some extent by increased SCOPIC revenue and steady wreck removal income which, over the years, has become increasingly important for our members, and, indeed, our clients.
"We know the days of more than one hundred LOFs each year are gone but nevertheless ISU believes it remains the best contract in many emergency response situations.
"Using the right contract in the right situation is very important and owners, insurers and salvors are committed to improving their understanding of each others' needs and preferences which will improve trust on both sides."
By Peter Barker