Yacht Havens Group, owner of nine yachting facilities in the U.K and the Netherlands, has taken delivery of a new Italdraghe MK III Marina Master 8000 Dredger at its Fambridge Yacht Haven location in Essex, UK.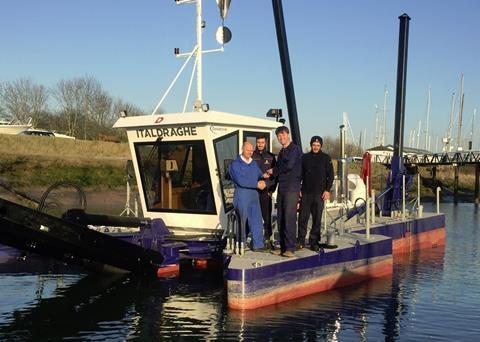 An exceptionally versatile and manoeuvrable dredger, the Marina Master 8000 has been designed and project managed by Goodchild Marine. It is a self-propelled unit, with a PD180 dredging pump, and it was built in the Italdraghe shipyard on the Italian Adriatic Coast.
Perfect for precision dredging projects in marinas and waterways where disruption needs to be kept to a minimum, Yacht Havens have invested in this specialist dredger to dredge their 220-berth marina, Fambridge Yacht Haven, located on the UK's scenic East Coast. With a 10-year dredging licence from the Marine Management Organisation, the dredger will focus on Stow Creek leading from the deepwater River Crouch into the Marina, its access channels and between the pontoons to allow for full-tide access.
Further to this, Fambridge Yacht Haven will also take delivery of a new 40-ton boat hoist this spring, increasing boat lifting capacity.
Marina Manager Danyal Adams is delighted to improve the quality of Fambridge's offerings, saying, "A deeper, full-tide marina and a larger boat lifting capacity will allow many more boat owners to bring their boats to Fambridge. Our peaceful and pretty village location on the River Crouch is less than an hour away from London so we hope these new improvements will appeal to a wider range of boat owners looking to escape the city."
This is the third dredger of its kind to be supplied to a UK marina owner and the second to this client, requiring versatile, easily-manoeuvrable, precision dredging equipment. A key feature of the dredger is its horizontally-hinged dredging boom manufactured in two sections with a central hydraulically-controlled vertical hinge, allowing the dredger to work under floating marina pontoons and finger piers without having to remove them.
It has the capability of manoeuvring into individual berths, cleaning them and then reversing out, there is no need for the marina owner to empty the entire marina prior to the start of the dredging operations. Only one or two moored boats need to be temporarily moved out at a time and, as each berth is dredged, these boats can be returned to their original mooring as the dredger moves on to the next berth.
Dredging can thus be done throughout the year, even during the busier summer months.
By Jake Frith