Seawork Connect is the brand new, free to attend, virtual Seawork exhibition, running from 5-7 October offering the incomparable networking opportunities and full online conference programme that visitors to the 'in person' Seawork are so used to.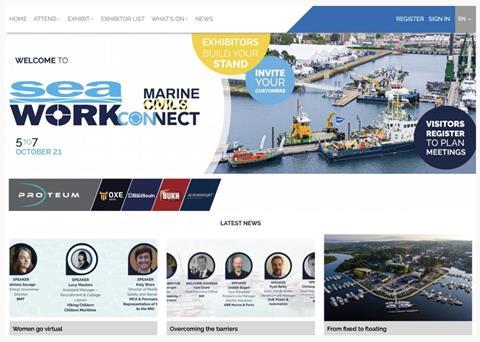 To help you stay ahead and keep you connected within the commercial marine industry until the next live Seawork returns to Southampton in June 2022, Seawork Connect will provide a valuable insight into the current innovations and developments in the commercial marine business.
The event will include the ever-popular MoD Session, USV Applications in Commercial Marine, Hybrid & Electric Propulsion Solutions as well as the next in the popular CMN Commercial Marine Network Workboat 2050 series. It will also host Seawork Connect Marine Civils, the event formerly known as Marine and Coastal Civil Engineering Expo (M&CCE).
Browse over 300 exhibitors and the latest products they have to offer. An AI matchmaking system pairs visitors with the correct equipment, exhibitors, online conferences and other visitors. Use Seawork Connect as a platform to network with other professionals in your sector, as well as the wider commercial marine industry.
It's well worth spending a few minutes some days ahead of the event getting underway to register, become familiar with the format and set up an effective profile. I've just done the full profile setup for myself and it took under 5 minutes.
Making the most of your visit:
Official registration is open for Seawork Connect, the virtual Seawork exhibition taking place 5-7 October 2021.
Register & Profile
First thing to do is complete a Visitor Profile, showing Name, Job Function, Company, Areas of Interest, and can include a picture. It is similar in style to a LinkedIn entry. The more fields you fill in, the better able the clever AI system will be able to matchmake you with companies and people of interest and value to you.
Browse the Contents & Schedule
Registered visitors can then browse the range of rich content Seawork Connect has to offer. This includes details and timings of online conferences such as the MOD session, the first session in the second 'Get Set for Workboat 2050' series, British Tug Owners Association and Workboat Association Safety Forum and much more.
Create a personal Events Schedule
Visitors then add what they want to see and hear to their own Events Schedule to make the most of their time when Seawork Connect is open.
The Seawork Connect platform can also make AI based recommendations of relevant businesses, event related content and connections with options for scheduling appoints and meetings. Visitors can sort and rank these as they choose - all in their control.
During Seawork Connect, exhibitors, visitors and speakers can exchange messages and schedule appointments with each other from any part of the website. The meeting system facilitates direct video calling and conferencing and allows multiple participants to take part in meetings.
In case three days is not enough, the Seawork Connect platform will also be open for two weeks after the virtual exhibition has closed to allow for follow up calls and contacts as well as access to information.
>More about the online conference sessions on offer