Jan De Nul has reached an important milestone in the cable laying project it's completing for DONG Energy's Race Bank windfarm in the UK.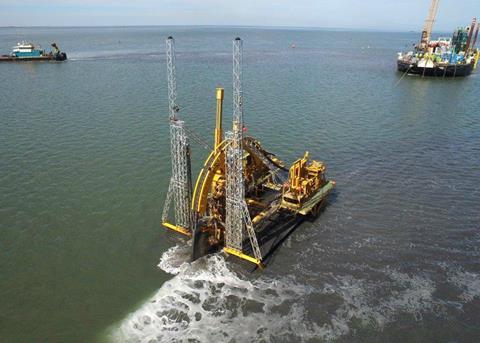 Following two successful installation campaigns in 2016 and 2017, Jan De Nul Group has completed installation and burial of two export cables for the windfarm.
"Race Bank has challenging seabed conditions along the offshore export route and the cable installation was identified as one of the key risks to project success," said David Summers, senior project director for DONG Energy.
"Jan De Nul rose to the challenge applying their considerable engineering capability to the problems, especially in the nearshore. They have done a done a really great job."
The cables span 70km across some of England's most important natural habitats and link the two offshore substations with an interconnector of 6km.
To execute the nearshore works across the saltmarsh in the Wash, Jan De Nul Group developed and built the award-winning low ground pressure cable installation and burial tools Sunfish and Moonfish.
Both machines were deployed from Jan De Nul's cable installation barge DN120. Offshore cable installation vessel Isaac Newton played a key role in the cable installation and jointing works as well as in the cable burial works with onboard trencher UTV1200 across the shallow Docking Shoals.
By Anne-Marie Causer