Jan De Nul is making progress with its dredging work on the New Suez Canal Project in Egypt, with a total of 200,000,000m³ of soil dredged so far.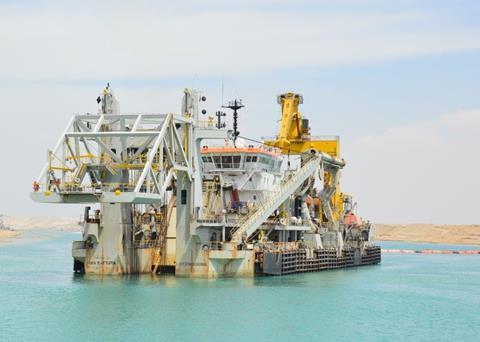 The company is part of the 'Challenge Consortium' dredging for the Canal, which will partially run parallel to the current waterway requiring widening and deepening of existing parts.
Jan De Nul's Cutter Suction Dredger Ibn Battuta is one of seven cutter suction dredgers working on the project and was the first dredger to have reached and delivered a stretch to design depths of -24m in this 34.5km new part of the Suez Canal. It was also the first to have broken the cap of dredging 205,000m³ per day.
Ibn Battuta is currently working with J.F.J. De Nul, Zheng He and Fernão de Magalhães, in the tougher sections of the project.
By Rachael Doyle