Belgian dredging giant Jan de Nul's 2016 Annual Report, released last month, focused on 'steady growth in a highly volatile market', with turnover exceeding €2bn for the sixth year in a row and a net profit of €102m.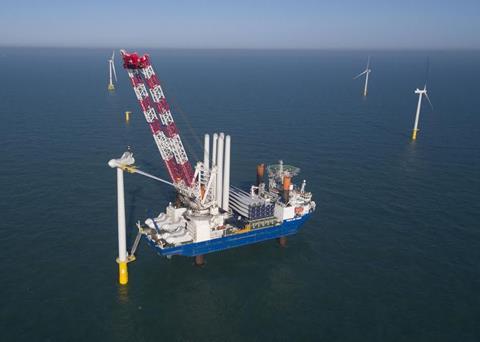 The report describes a persistently difficult climate throughout the world for investments in infrastructure, sustained low oil prices and the invariably weak growth of the world economy having a significant downward impact on the markets in which the Jan De Nul Group is active, making its excellent performance all the more impressive. In order to maintain its position, the Group devotes much attention to permanent innovation and the diversification of its activities within the industry.
Its maritime operations are and will remain the core activity of Jan De Nul Group. In 2016, JDN executed major port infrastructure works in France (Dunkirk and Calais), Congo (Pointe-Noire), Ghana (Takoradi), Morocco (Nador), Mozambique (Maputo), Panama, Russia (Sabetta), Egypt (Abu Qir) and Belize. It also had large land reclamation projects in the Netherlands, France, Guinea, Nigeria, Italy and Turkey.
Within the maritime cluster, the Offshore Division focused strongly on the further diversification and growth of its activities in the renewable offshore and wind energy market. There is a worldwide ambition to increase the share of sustainable energy sources in the overall energy production to 60% by 2040, which is why these activities have become a major focus point for Jan De Nul Group. In 2016, it built, among others, the Nobelwind wind farm off the Belgian coast.
Soil and groundwater remediation, environmental dredging and sediment treatment, treatment and valorisation of waste and brownfield development were the key activities carried out by Jan De Nul Group's Environment Division (Envisan). In 2016, this division continued to build new soil and sediment treatment centres across Europe. It also supported the dredging and civil works division by offering environmental solutions to their respective customers, thus enabling the latter to offer overall solutions.
This cross-fertilisation between the different business units of Jan De Nul Group is definitely on the rise. In Panama and Ghana, the civil and dredging divisions worked together on the construction of a quay wall and in Malta, Norway and Sweden, the dredging and environment division joint forces for port remediation projects.
In 2016, Jan De Nul Group generated 72% of its turnover from its dredging and offshore activities, 25% from its civil activities and 3% from its environmental activities. This distribution is practically the same as in previous years.
The Group's capital and reserves amount to €2,752m, an increase of €117m compared to the previous fiscal year. Accordingly, the Group recorded an exceptionally strong solvency ratio of more than 60%.
Despite the continuous investment policy during recent years, Jan De Nul Group is a net debt-free company for the third year in a row. The net cash position (positive balance) in 2016 amounts to €271m.
Last year concluded with an order book of €2.55 billion, which is a stable result compared to 2015 and a strong performance considering the persistently lowered level of investment worldwide in the Group's target markets.
By Larz Bourne