Tokyo Kisen Co Ltd and Tokyo-based e5 Lab Inc have jointly developed a new concept design for an electrically powered, hydrogen fuel cell harbour tug.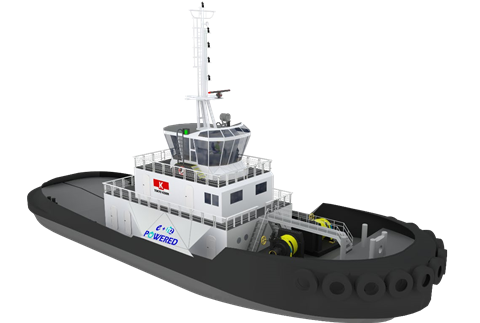 Those in the towage industry exploring options for 'going green' are faced with an increasing choice of technologies. At the end of the day however, in extreme situations tug masters and ship pilots demand the raw power that traditionally only high-powered directly connected diesel engines provided.
It is an indication of how such technology is advancing that Tokyo Kisen and e5 Lab are now proposing a large-capacity battery, hydrogen-powered harbour tug offering a towing power of 50 tons and a service speed of 14 knots from two 1,500kW azimuth thrusters.
Tokyo Kisen and e5 Lab state: "This electric propulsion system will ensure sufficient bollard pull and continuous cruising time necessary for harbour tugboats which requires a large-capacity power to function. Furthermore, CO2 emission is minimised by incorporating a fuel cell."
The stated main features of the vessel, designated the "e5 Tug" include a reduction in CO2 emissions in all operational phases such as push/pull, transit and standby and an interesting application whereby it can function as a form of emergency power supply source from ship to shore in the event of disaster.
The tug's "fully electrified powertrains" can adopt the most suitable energy sources including lithium-ion battery, hydrogen fuel cell, all-solid-state batteries and LNG generators in accordance with technological progress. Future scalability includes the possibility to achieve zero emissions on a "well-to-propeller" basis in combination with renewable energy.
The project to develop the tug will draw on advice from the Japanese Ministry of Land, Infrastructure, Transport and Tourism, ClassNK and others for regulatory compliance. Following the final investment decision, the aim is for the tug to be launched for commercial operations in the ports of Yokohama and Kawasaki in 2022.
Tokyo Kisen provides towing services throughout Tokyo Bay along with pilot boats, transfer boats, water buses, harbour cruise ships and car ferries.
e5 Lab Inc supplies solutions based on the electronic and digital elements of shipping with the mission of "sustainable domestic shipping , which is the lifeline of Japan" and its work include a project aimed at completing an electric propulsion tanker designated "EV Tanker" for Asahi Tanker Co Ltd by 2021.
By Peter Barker