The UK's Defence Infrastructure Organisation (DIO) is investing £64m in a redevelopment of the Northern Ammunition Jetty in Glen Mallan to support the Royal Navy's surface fleet.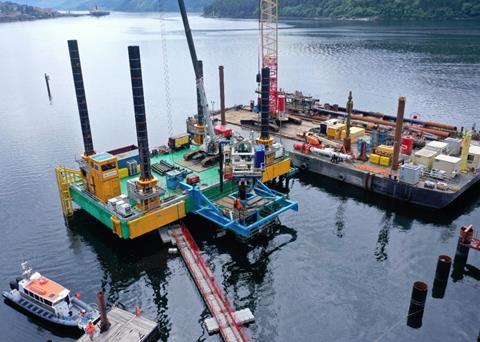 The jetty is used to load and unload ammunition. The original jetty was last upgraded in 1970 and had reached the end of its natural life. It needed to be rebuilt so that the facility could continue to be used by the Royal Navy's existing vessels and to make it suitable for the new aircraft carriers. The infrastructure works are expected to provide the new jetty with a design life of up to 50 years.
Contractors VolkerStevin are undertaking the project with completion planned for 2021. The original jetty has been demolished ready for the construction of its replacement. All waste from the jetty demolition has been transported on barges to recycling facilities on the Clyde to minimise disruption to the public and will be reused for construction. The project team has also installed 97 jetty head piles into the sea bed to support a reinforced concrete deck for the new jetty.
The works also include the installation of five mooring dolphins which will be connected to the jetty by a pedestrian access bridge, and two of these piles for the mooring dolphins have been installed. Two modular fender spacer units will be placed in front of the new fender panel and will move with the tide to prevent the Queen Elizabeth Class aircraft carriers' overhanging flight decks from colliding with the jetty.
The project also includes the installation of two modern pedestal cranes, fire-fighting equipment, stores, back-up generators and pre-fabricated modular buildings for offices.
By Jake Frith