French-owned Jifmar Offshore Services has increased its presence in Scotland with the acquisition of Shetland-based Delta Marine.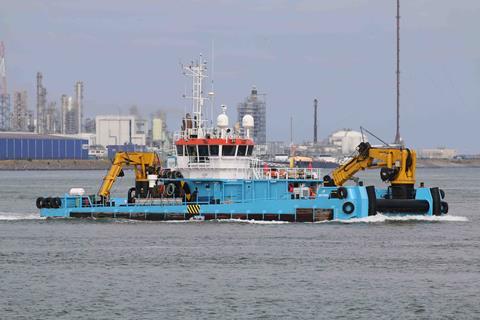 This new addition for Jifmar comes a year after the similar acquisition of Scottish maritime services provider North West Marine and a look at the operating profile of all three companies shows a connected thread offering symmetry and a variety of services including towing.
Markets catered for include the offshore oil, power and renewable energy industries including wave and tidal energy, aquaculture, mooring, also diving and salvage services. The combined fleet of around 40 vessels will provide a formidable range of craft catering for such niche sectors.
Looking in detail at vessels now at Jifmar's disposal, Delta Marine operate five tug/workboats, four of which are Damen products including the three-year old bespoke design Voe Vanguard a DP2 RSV3315 renewables service vessel based on Damen's multicat design. Unlike the standard Damen multicat design with accommodation offset to port, Voe Vanguard's accommodation is located forward across the vessel's beam. If offers an impressive 39.2tbp (ahead) and has accommodation for 20 persons.
North West Marine, while offering similar services has a more diverse range of five vessels including the triple-hulled workboat Meercat. Built by Dunston of Hessle for the Royal Maritime Auxiliary Service in 1972, Headcorn is the company's largest and most powerful vessel primarily used for towing operations.
Jifmar Offshore Services' overall fleet availability list (including vessels from Delta Marine and North West Marine) currently indicates 29 vessels either available prompt or committed at various locations including the North Sea, Gulf of Guinea and Mediterranean.
Previously part of the Stemat/BW Marine fleet with the name Anna B the now renamed Neptune Eurocarrier 3212 Jif Artemis was recently 'jumboised' by Neptune Marine to meet requirements of clients in the offshore industry. Work included installing a new 10m central compartment and follows a similar operation to extend the length of another Eurocarrier Jif Breizh by 10m in 2015.
Speaking about two of the new addition to its fleet, Jean-Michel Berud, chairman of Jifmar Offshore Services says: "With VOE Earl being the most powerful DP multicat currently on the market and the specific design of VOE Vanguard, we will be in a position to expand the range of services offered to our clients,"