A joint venture in China is celebrating a new record for the number of engines produced during a single month at its manufacturing facility in Chongqing.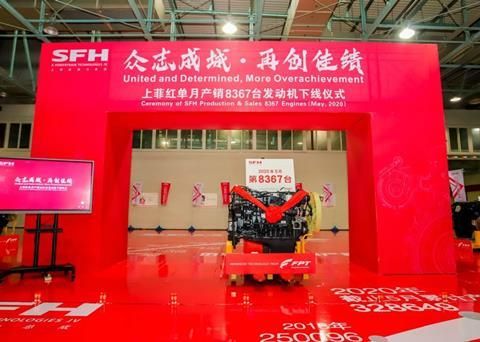 FPT Industrial's SFH (SAIC Fiat Hongyan Powertrain Co Ltd) JV has recorded an increase in engine output of 6% on the previous record, which was set the month before.
Sales in the heavy truck market over the first four months of 2020 demonstrated a V-shaped trend curve, with record sales in January. However, as the effects of COVID-19 began to subside in April, the market returned to an upward trend.
At Chongqing, SFH has four cylinder head production lines and two assembly production lines. The cylinder head lines are equipped with 40 large-format machining centers that produce components 24-hours a day to help the plant achieve record monthly output levels.
In terms of technological innovation, the latest SFH low-emission engines use a highly efficient Hi-eSCR exhaust after-treatment system without EGR (engine gas recirculation). Based on more than 26 years' research into SCR (selective catalyst reduction) technology by FPT Industrial, the system can achieve ultra-high (>95%) conversion efficiency of nitrogen oxides.
Importantly, Hi-eSCR does not need additional technology to make up for lost power, and does not require a larger engine size and cooling system to reduce the additional heat dissipation it brings, greatly reducing running costs. Compared with competitive products, Hi-eSCR can reduce fuel consumption by 3%, while the maintenance interval of the DPF (diesel particulate filter) is 20% longer, contributing to lower maintenance costs.
By Rebecca Jeffrey