Proposals to build a canal across the spit of land that divides the Black Sea from the Sea of Marmara have been on the drawing board for many years. The canal is aimed at by-passing the Straits of Bosphorus and to reduce the delays for shipping on this busy route.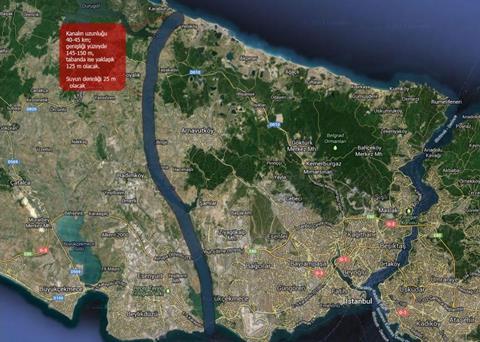 There have been proposals for four alternative routes for the canal but now after years of discussion and research the final route for the canal has been selected and work on the canal is scheduled to start in the near future. The Turkish Minister of Transport, Ahmet Arslan has said that the country plans to finalise the tender process and start the dredging works for the Kanal Istanbul project this year.
The shipping transiting the Straits of Bosphorus is being increasingly subject to delays as the number of ships using this vital link between the Black Sea and the Mediterranean increases. The Bosphorus is considered to be a challenging route with its sharp bends and narrow sections and with many of the ships using the channel carrying cargoes of oil the potential for a major disaster is significant. There has been a number of collisions and groundings and the pressure to develop an alternative route are mounting.
The proposed 45km long canal would be a sea level link between the Black Sea and the Sea of Marmara the final route planned is west of the Bosphorus Strait, encompassing the area from the Kucukcekmece Lake to the Durusu region. This is on the outskirts of the city and it would be a sea level canal with no locks. Based on initial specifications, the canal will be 25 metres deep and between 250-1,000 metres wide. Spoil from the excavation work with be used to create new islands in the Sea of Marmara.
Arslan pointed out that studies were carried out to assess potential earthquake risks on the waterway along with the impact of the wind and deep sea waves at the Black Sea and Marmara Sea entrances, and those from ship passages, adding that research work continues. The plan includes the development of the canal's banks into a major logistics hub serving the Black Sea.
It is expected that the project will be financed through a mix of public-private partnerships and it will be the most expensive infrastructural project in the country, according to the minister, although the exact cost estimate has not been disclosed.
Turkey would most probably charge to use the new canal as it would not be subject to the Montreux Convention which allows free use of the Bosphorus to shipping of all nations.
By Dag Pike