Having tested two Hull Vanes on the lead vessels in a series of police patrol vessels of two types, Damen Shipyards has now ordered four more.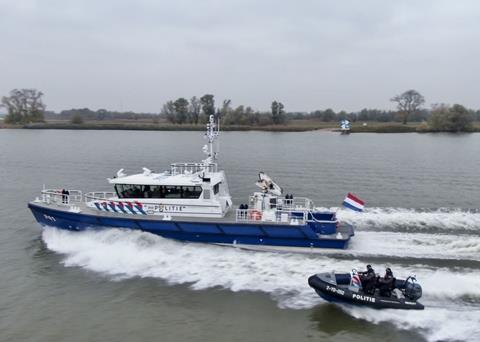 Following a European public tender, Damen Shipyards recently built and successfully delivered a 20m Stan Patrol 2005 and a 25m Stan Patrol 2506 to the Dutch National Police. In the bid package, Damen Shipyards introduced a number of solutions to reduce emissions, such as a light-weight composite superstructure and an exhaust gas after treatment system. To reduce the fuel consumption at patrol speed (20 km/h) and to reduce the wavemaking of the vessels, Damen also included a Hull Vane on both designs.
Invented and developed by Dutch Naval architects Van Oossanen, the Hull Vane is a hydrodynamic wing-shaped stern appendage which converts energy of the stern wave and of the ship motions into forward thrust. In addition to patrol vessels, the device is very effective on superyachts, naval ships, fast supply vessels and passenger ships.
While the 20m patrol vessels will be used predominantly on inland waters, the 25m will venture out in coastal waters frequently, and will therefore also benefit from the reduced ship motions in waves offered by the Hull Vane.
With the performance proven on the first two vessels in the series, Damen Shipyards has now placed an order for four more Hull Vanes, to complete the series of six vessels for the Dutch National Police. These vessels will be delivered during 2020 and 2021.
By Jake Frith