A Kiel shipyard has built a €9 million multi-purpose repair and maintenance pier capable of handling bigger ships and future new fuel and propulsion systems, reports Tom Todd.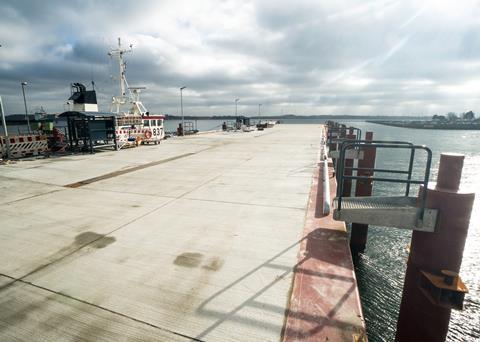 The 100 x 15m pier boasts 1,500m2 of work space and has taken a year to build at the Gebrüder Friedrich Werft. It replaces a 40 year old facility no longer capable of meeting modern demands and is one of the largest infrastructure projects ever undertaken by the 100 year old family yard.
The first ship to use it has been the 29.8m German fishery research cutter Littorina but the yard has long handled ferry and workboat repair and the new pier expects many types of ship. Particularly prominent are pilot boats: the yard is close to the Kiel Canal and is the repair and maintenance contractor for nine local pilot boats.
A shipyard spokesman told Maritime Journal the yard wanted to stay abreast of and serve changing needs. The aim was to utilise and offer customers innovative new processes in the ship repair supply, components and materials chains – all bundled into a single location.
The Gebrüder Friedrich pier is described as the first building block in a three-phase development programme called Service Maritim 4.0 described as "a bridge into the future" for ship repair.
Manager Katrin Birr said the yard was a pioneer - "developing and offering a completely different and unprecedented service to that on offer so far from conventional yards".
Demand is expected to be high and cover a wide range of activities as local shipowners switch operations increasingly to eco-friendly forms of propulsion and fuelling like GTL and LNG and also consider further future-oriented systems.
The new pier is designed to be capable of handling ships with these new systems as well as conventional fossil, renewable energy and electric or hybrid systems. The shipyard says it is already able to handle ships with GTL or LNG propulsion.
The new pier is being followed by the creation of an IT-supported repair sector environment in which data from many sources will be integrated.
The German Government is putting up €2.7 million of the €9 million cost of the project under its "Innovative Shipbuilding" programme while local federal state Schleswig-Holstein is providing a further €1.3million.