The Lock of Kieldrecht in the Port of Antwerp has been officially opened for commercial shipping by His Majesty the King of Belgium.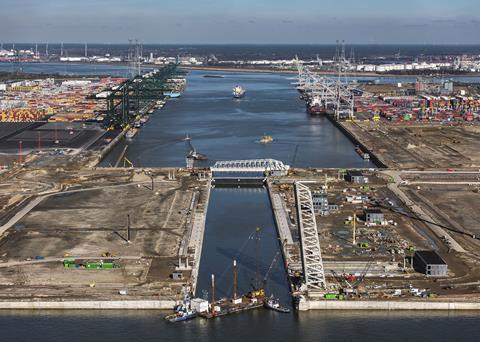 Grande Lagos, belonging to ship company Grimaldi, was the first vessel to pass through the lock gates when they were opened on 10 June in front of the Port Company and the Maritime Access Department.
The lock connects the Deurganck Dock, the tidal dock where container vessels arrive, and the Waasland Canal.
It was built because the Kallo Lock had become too small for the increasingly large commercial vessels. The new lock has a width of 68m, length of 500m and depth of 27m.
Construction of the Lock of Kieldrecht started in 2011 and was led by THV Waaslandsluis, a cooperation between Jan De Nul NV, BAM Contractors, Herbosch-Kiere and Antwerpse Bouwwerken.
By Alice Mason