Kongsberg Maritime's azimuth thrusters have been selected to power a fully electric shiphandling tug, the first of its kind in the world.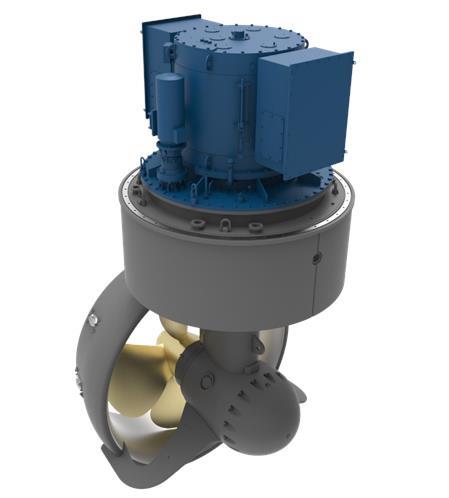 The reference concerns the recently announced partnership between New Zealand's Ports of Auckland Limited and Damen Shipyards Group to develop a fully electric shiphandling tug, part of the former's declared intention to conduct emissions-free operations by 2040.
There are two noteworthy aspects to this item of news, firstly the all-electric feature of the vessel's operation and second the selection of Damen's RSD-E 2513 design. Emissions from the source power supply that will charge the tug have to be considered of course but during operation it will in effect be emissions-free, important where it works close to urban areas. Two Tier III-compliant gensets are for back-up purposes only with propulsion supplied by batteries rated at 2,800kWh, equivalent to 70 Nissan Leaf cars.
The RSD 2513 is one of Damen's "next generation" tugs (featured previously in MJ including June 2019 Seawork edition) around six of which are now in service with several more in build as per Damen's build for stock practice. The RSD designation refers to Reversed Stern Drive, its "always bow first" configuration placing it in the safest position. It features twin fin skegs for optimal towing performance and high impact resistant Damen safety glass. Notable during MJ's experience of life on board was the low level of noise and vibration.
Kongsberg's advanced technology will be an integral part of the vessel, utilising two US255 L PM fixed-pitch azimuth thrusters supplied from its facility in Rauma, Finland. The tug will provide a bollard pull of 70t and Kongsberg state: "… with their integrated PM electric motors, unrivalled manoeuvrability, tough modular construction and proven reliability, these thrusters combine minimal running costs with impeccable environmental credentials."
By Peter Barker
Kongsberg's working relationship with Damen dates from 1983 when UL801 retractable azimuth thrusters were supplied to the Netherlands-based shipbuilder. In the intervening years the alliance has notched up many significant successes with Kongsberg celebrating delivery of its 1,000th thruster to Damen in 2017, the same year the company provided the ASD Tug 2811 with thrusters featuring an integrated heavy duty slipping clutch, a figure that has now risen to nearly 1,300.