Additional information surrounding delivery of nine advanced Rotortugs mentioned briefly last month invites a closer look at the Australian operation they are now serving.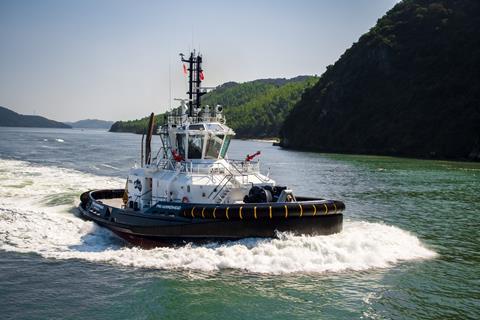 The tugs will enhance shiphandling towage services for Fortescue Metals Group in Port Hedland, the world's largest bulk export terminal on Australia's west coast. Last year the port, in the Pilbara region handled over 513 million tonnes of iron ore exports with 6,147 vessel movements most of which involving the largest and heavily loaded bulk carrier afloat.
The scale of the operation from the shiphandling tug provision angle is illustrated in a representative AIS snapshot of Port Hedland indicating 12 Rotortugs (in addition to the latest nine new examples) in attendance along with six RAL RAstar 85 escort tugs and two RAL Z-Tech tugs making 28 high-performance tugs working for various operators assisting navigation of ships through narrow channels with difficult bends.
The pattern of high-quality tonnage continues with the choice of the nine new Rotortugs for the port comprising eight ART 85-32W and one RT80-32 variants. Six are owned by Fortescue with three owned by Kotug who charter them directly to Fortescue, Kotug manages the entire contract and has contracted Westug for managing the day-to-day operations with Rotterdam-based Tug Training & Consultancy providing high standard training to the local tug crews.
Ard-Jan Kooren, Kotug International CEO said: "Kotug is renowned for establishing solid, long-term business relationships with clients in industries such as oil and gas, mining and renewables. We commit to continuous improvement and I am proud to say that together with Westug we have an amazing team that can make this happen. We thank Fortescue for their trust in Kotug and value their business, it fits our strategy to expand our activities in the Australian market from our local offices in Perth and Port Hedland."
Turning to the tugs themselves, in 2013 Robert Allan Ltd (RAL) signed an exclusive designer arrangement with Rotortug (KST) BV covering the continuous technical development for all existing and future Rotortug designs and RAL has provided a detailed description of the eight ART 85-32W tugs.
Two shipyards were selected to build the vessel with Damen Shipyards responsible for constructing: FMG Hammerhead, FMG Mako, FMG Dusky, FMG Spinner, FMG Blacktip and FMG Tawny at its Song Cam facility in Vietnam and the remaining two, FMG Sandtiger and FMG Sawfish entrusted to Cheoy Lee Shipyards in Hong Kong, both shipyards have a solid reputation for building advanced tugs of this type.
The design is based on the ART 80-32 version and has a sponsoned hull form adapted for the Rotortug concept with similar working decks, accommodation and wheelhouse layout. It has been modified to accommodate the higher bollard pull including 1.2m additional beam and increased flare increasing stability during escorting operations while also enhancing manoeuvrability.
Built to Lloyd's Register class requirements, general particulars include a length of 31.5m on a beam of 13.7m and extreme draught of 6.1m. Tank capacities include 185m3 fuel oil, 26.6m3 fresh water and 29m3 recovered oil (on some vessels only). Performance figures include speeds of over 13kn ahead and astern, 6kn side-stepping and a bollard pull of over 85t ahead and astern.
The standard propulsion arrangement of two thrusters forward and one aft comprises three Caterpillar 3512C HD main engines (IMO Tier II compliant) rated 1,765kW at 1,800rpm with propulsion via Schottel SRP 430 Z-drives with 2.5m fixed-pitch propellers and built-in slipping clutches. Two Caterpillar auxiliary engines are provided in each of the two Cheoy Lee-built examples with four auxiliaries, also Caterpillar in the six Damen-built vessels.
Ibercisa provide towing winches for the series, a MR-MAN/E/270/250-70/22 electric escort winch mounted forward with a MR-E/270/250-70/1 electric towing winch aft.
Those vessels with firefighting notation have systems supplied by FFS including a single SFP 300x400XPC pump driven off the front of the port forward main engine delivering 2,850m3/hr to FFS1200 LB monitors each with a capacity of 1,200m3/hr water and 300m3/hr foam.
A typically comprehensive fender arrangement is included, and accommodation is provided for six persons in two single and two double-berth cabins. The wheelhouse arrangement is the standard layout now common in shiphandling and escort tugs with 360' clear views over the fore and aft deck and a single Alphatron integrated bridge control station.
By Peter Barker