Kotug International has established Kotug CityBarge BV an inland shipping division involving electrically powered pusher tugs along with its OptiPort automated dispatching system.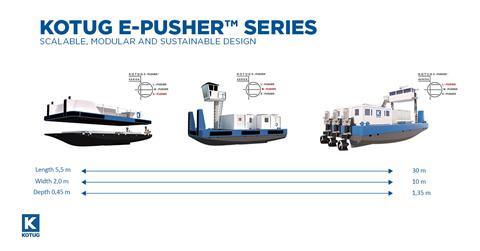 As the drive to make shiphandling tugs more environmentally friendly gathers pace, in parallel is work by ports such as Rotterdam to move freight away from increasingly congested road networks to other forms of transshipment such as inland waterways and rail, a process known as modal shift. Moving inland barges from fossil fuel to battery power offers an intriguing opportunity to avoid harmful emissions being simply transferred to other communities. Pusher tugs also offer enhanced utilisation swapping between barges rather than waiting for cargo operations as with conventional barges.
Kotug International is well-placed to develop this concept, experienced in a range of towing from inland to deepsea and based in Rotterdam with connections to Europe's inland waterway system. The project involves three modular and scalable electric E-Pusher tugs between 5.5m and 22m in length with draughts 40% less than conventional pushers. They are powered by swappable energy containers offering various fuel sources including stage V diesel, biogas, hydrogen and battery. Kotug's OptiPort AI-driven dispatch and route planning application uses historical and real-time information to optimise expected arrival and departure times, routing and speed controls and will be used by Kotug. OptiPort has been available since 2017 and currently in use in Australia, Japan, US, Canada, Belgium and the Netherlands.
Kotug CityBarge BV is a partnership between Kotug and Circle Line Logistics BV and started activities recently with a 5.5m E-Pusher in the municipality of Leiden providing a 'zero-emission alternative for heavy truck transport in inner-cities … restoring inner-city waterways by using them to transport garbage, construction materials and retail products.'
Regional Inland Shipping Minister, Jeannette Baljeu said: "The Province of South Holland is involved since the start of the project around reinstating waterways as a means of transport with the development of the CityBarge, the smallest version of the E-pusher. Clean transport is one of our priorities, by bringing together business and government to solve mutual challenges, solutions like the E-Pusher are no longer just paper ideas but market-ready products. I strongly believe in the concept; it improves the liveability in cities and boosts the growth of tech industries in the province of South Holland and beyond."
By Peter Barker