Kotug Australia Pty Ltd and Westug Pty Ltd have agreed to 're-shape' towage services for Pilbara Marine in Port Hedland, Western Australia.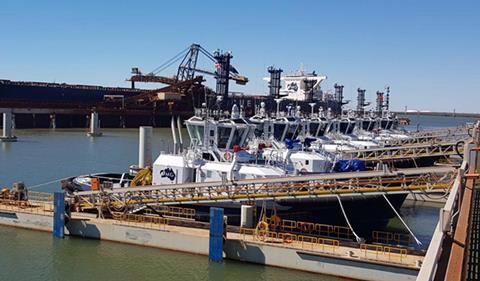 Port Hedland is a major iron ore export terminal with five berths capable of handling large ore carriers. The operation has an equally impressive towage provision including nine Rotortugs operated by Pilbara Marine, a subsidiary of Fortescue Metals Group and after three years of successfully working together Westug and Kotug have 'mutually and amicably agreed to exit their agreement with regard to this operation.'
Both companies have agreed that Fortescue's Port Hedland towage service will benefit from having a single party managing operations and believe that a single contractor delivery model will have 'a positive impact on the management of operations and overall responsiveness to the end client.' Kotug will retain its existing agreement with Pilbara Marine whereby it supplies the tugs along with overall responsibility for delivery of the towage provision at Port Hedland. Operation of the service was previously sub-contracted to Westug and under the new arrangement Kotug has assumed control with Westug exiting the business; it was stated that all existing Westug personnel will be transferred across to Kotug as part of the agreement.
At the time of writing AIS data indicates the 'RT' prefixed Rotortugs at Port Hedland as RT Atlantis, RT Enterprise, RT Imperieuse, RT Inspiration, RT Darwin, RT Tough, RT Rotation, RT Endeavour and RT Discovery, all powerful 80tbp RT80-32 variants built by Cheoy Lee/Hin Lee (Zhuhai) Shipyards and ASL Shipyard – Singapore between 2011 and 2015 operating at Port Hedland. BHP Billiton also operate a fleet of Robert Allan Ltd RAstar 85 ASD tugs at Port Hedland.
Reflecting on its contribution to Port Hedland and the rationale behind the change Westug CEO Mark Malone said: "We are proud of the work our team has done to build the operation in Port Hedland, but the intensity of the operational requirements to keep such a busy port serviced to the required level is best served by a single towage operator. Despite our best efforts, having two parties sharing responsibility proved to be too much of a challenge. We wish Kotug well in servicing Fortescue and leave the operation with strong relationships and our focus squarely on other growth opportunities in the Australian market."
By Peter Barker