Rotterdam-based towage service provider Kotug has announced two further steps in its global expansion activities in Australia and Mozambique.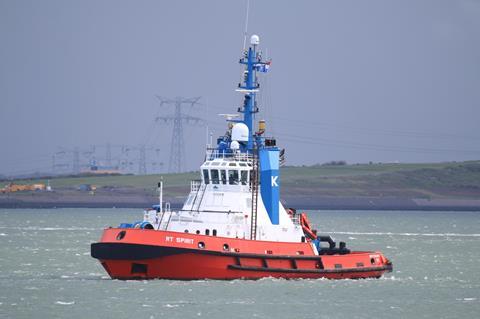 The first item of news concerns KT Maritime Services Australia Pty, Kotug International's joint venture partnership with Teekay Shipping Australia which has been awarded another infield support vessel contract for ConocoPhillips Bayu Undan operation.
The contract covers design, construction and operation of a new customised 45m long, 100tbp Rotortug for offshore support at ConocoPhillips operations in the Timor Sea. The Rotortug was specifically selected to meet the field's unique requirements including tanker berthing, operations support and emergency response.
The vessel is described as an Infield Support Vessel reflecting requirements to provide support services at floating LNG terminals, taking the standard of such vessels to new levels with provision of highest levels of safety, technical innovation, operational expertise and sustainability practices. Other activities in the region for KT Maritime Services include operation of three Infield Support Vessels at the Shell Prelude floating LNG facility in Australia.
The second item of Kotug news covers commencement of exclusive port and terminal towage services in the new port of Nacala-a-Velha for Nacala Development Corridor (CDN) in northern Mozambique.
Two of Kotug's Rotortugs have been assigned to the contract. RT Spirit and RT Magic have been regular sights in European waters as well as further afield since delivery in 1999 and have been allocated to this new service. They were selected by CDN to optimise turn-around times at the port, employing the minimum number of tugs per ship assist. Their first assignment was assisting the Shining Dragon which at 181,365dwt became the largest bulk carrier ever to enter Mozambique waters.
RT Spirit and RT Magic were third and fourth respectively in the series that was the first four Rotortugs (the first two RT Innovation and RT Pioneer). They were all built in Spain although the RT Magic was completed by Padmos in the Netherlands from hull and steelwork from Friere in Spain.
Classified by DNV-GL they are both 31.6m in length by 12m beam and have the three azimuth thruster arrangement which identifies the Rotortug in the form of Schottel SRP 1212FP models. These are powered by three Caterpillar 3516B DI TA main engines developing in total 4,698kW (6,300bhp) and delivering bollard pulls of 78t (RT Spirit) and 76t (RT Magic).
Kotug's CEO Ard-Jan Kooren commented: "KOTUG considers this contract as an important breakthrough to diversify in the energy resource sector, to provide first class towage services for an outstanding coal terminal and to set a long term strategic position in Mozambique and for the East African market. Moreover, it is again a milestone in our global footprint and will bring substantial commercial value to our business".
By Peter Barker