A new €3.9 million ferry station at Schilksee in the north of the Kiel Fiord has opened for traffic, becoming the fourth pontoon landing facility to be inaugurated on the busy German fiord in recent years.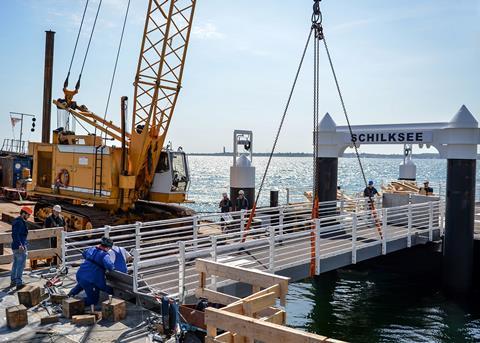 The landing was being officially opened in July but actually began working in June after being approved by local shipping and waterway authorities for operation in time for the annual Kieler Woche sailing regatta.
That international event brings tens of thousands of visitors to Kiel, which is not only an important cargo handling port but now also one of the most popular cruise shipping ports of call in Germany.
Andrea Kobarg, spokeswoman for the landing stage's main users - the city-owned Schlepp- und Fährgesellschaft Kiel (SFK) - told Maritime Journal the operator made three calls a day at the landing point during the summer and that it was also used by local boats. The Schilksee facility is the most northerly local ferry landing stage on the Kiel Fiord.
Kobarg said the new pontoon had been built to replace a facility erected in 1963 which was so badly rusted and cracked that it was deemed unsafe for further use by local authorities. Joachim Kläschen of the Kiel city administration told Maritime Journal it would have been no cheaper to renovate the old facility. It was demolished last year and the new 15m x 15m floating pontoon landing facility complete with a 13m x 2.5m wide metal bridge was ordered by the municipal management company which owns the Schilksee facility.
The advantage of the floating pontoon and bridge is that they can be used by ships in almost every weather condition and independent of water levels. That in turn means tight operational schedules can be maintained. The SFK operates five small passenger ferries of up to 32m as well as five port and ocean-going tugs - the biggest of 32m – and two pontoons of 35 and 49m length.
Barrier free and with a new jetty for small boats and water drainage renovation, the new Schilksee pontoon landing was built by the Rosslauer Schiffswerft up the Elbe River in Saxony Anhalt. It was pushed well over 400 kms down the river, past Hamburg and through the Kiel Canal to Kiel by the Hamburg tug Vincent.
The construction firm Züblin handled building at the site. The €3.9 million cost of the project also included the construction of a 70m long and 6.5m embankment to link the shore and the landing facility.
The Schilksee landing is the fourth ferry pontoon to replace old re-inforced concrete landings in recent years on the Kiel Fiord. Similar stations were built at the Reventloubrücke in 2015, Mönkeberg in 2012 and Falkenstein in 2010.
By Tom Todd