Norwegian company TECO2030 has developed a 400kW fuel cell that is currently undergoing type-approval for marine applications.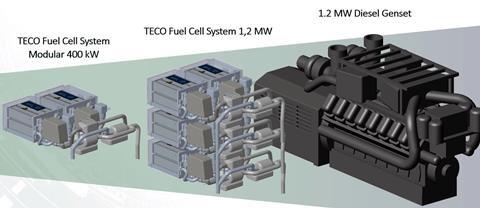 The technology could open the door to wider applications in the workboat sector. There is increasing demand for workboats to be capable of emission free operations and this new higher capacity unit could meet the demands for fuel cell powered generators on larger vessels and as a primary power supply for electrically powered smaller workboats.
The FCM 400 fuel cell module is undergoing final development and type-approval in accordance with maritime rules and regulations. A statement from the company said. "The FCM 400 fuel cell module is TECO 2030's building block for marine applications. The zero-emissions fuel cell has 400kW net power output which is twice the capacity compared to other fuel cell providers," said a company spokesperson. "Another benefit of this fuel cell is that it occupies less space than a comparable diesel powered generator and it is silent in operation."
This TECO2030 unit has been primarily designed to operate with liquid or compressed hydrogen as the fuel but it can be adapted to operate on other hydrogen based carriers such as ammonia and methanol. However it is the availability of suitable fuels that may hold back the use of fuel cells.
TECO2030 said that its designs took into account feedback from customers and collaborators within the marine industry. The fuel cell is scalable to any MW size needed simply by adding more of the 400kW units in parallel and the company has also developed a containerised unit housing four of the fuel cells that will have an output of 1200kW.
"TECO2030 expects its products to be the most utilised fuel cell solutions within the maritime and offshore industry," said chief executive Tore Enger. The TECO2030 fuel cell is based on development work carried out on fuel cells for the automotive sector by AVL Global in Canada.
TECO 2030 has announced a partnership with Thecla Bodewes Shipyards in Holland to develop zero emission hydrogen-based fuel cell propulsion on all types of river going vessels, such as push tugs, dredgers, passenger and cargo ships and low-profile coasters. "This partnership with Thecla Bodewes enables us to commercialise the TECO 2030 Marine Fuel Cell on newbuilds for inland waterway transport," said Tore Enger.
By Dag Pike