Dutch marine construction major Van Oord reports that its offshore installation vessel 'Aeolus' has installed the final wind turbine at the Gemini Offshore Wind Park, completing the installation of all 150 turbines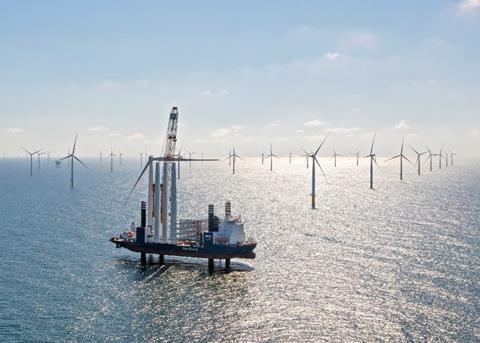 With a total capacity of 600 MW, the Gemini Offshore Wind Park in the Dutch part of the North Sea is one of the largest wind farms in the world, both in terms of size and production. Four partners have joined forces to make the Gemini wind farm a reality: Canadian independent, sustainable energy company Northland Power (60% interest), wind turbine builder Siemens Wind Power (20%), Dutch marine contractor Van Oord (10%) and sustainable waste, raw materials and energy company HVC (10%).
Van Oord and Siemens were responsible for the installation of the wind turbines. "Installation of the turbines was seamless," said Didi te Gussinklo Ohmann, Van Oord's Gemini Project Director. "We were very pleased with the collaboration between all partners over the last year. We proudly reflect upon successful completion of a large and complex project that is contributing to the development and competitiveness of the offshore industry."
Matthias Haag, CEO Gemini added: "The installation of the 150th and last turbine in the wind park is a magnificent achievement. After the successful installation of the foundations, the offshore high voltage stations and 210 kilometres of export cables by Van Oord, also the turbine installation went according to plan. We are proud of everyone that contributed to the safe construction of Gemini."
In addition to being a project shareholder, Van Oord is also the EPC (engineering, procurement and construction) contractor. This involves supplying and installing the foundations, the entire electrical infrastructure, including the offshore and onshore high voltage stations, the cables, and the installation of the wind turbines. Van Oord mobilised offshore installation vessel Aeolus and cable-laying vessel Nexus for the Gemini project.
By Jake Frith