A US boatbuilder says it has increased its law enforcement market share with 20 new customers and over 35 new patrol boat builds.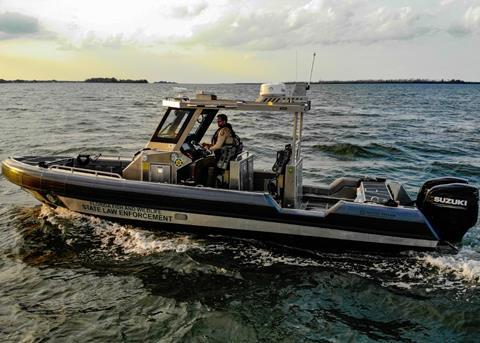 Metal Shark, headquartered in Jeanerette, Louisiana, says it is enjoying increased popularity among law enforcement agencies, with over 35 welded aluminium law enforcement vessels either recently delivered or currently in production.
Among its many new builds, Metal Shark is producing five custom 23-foot Relentless centre console patrol boats for the Ohio Department of Natural Resources, while continuing to deliver 26-foot and 28-foot Relentless centre console vessels for Florida Fish and Wildlife Conservation Commission, the nation's largest conservation law enforcement agency.
The company attributes the growing success of its law enforcement business development effort to the many mission-enhancing features it has incorporated into its LE-focused lineup.
"These are purpose-built, professional-grade law enforcement vessels with many mission-specific features that really set them apart," said John Hotz, Metal Shark's Senior Account Manager specializing in Law Enforcement sales. "We integrate weather-tight compartments with 12-volt USB outlets into consoles for laptops and printers, we employ non-reflective blackout matte coatings that eliminate glare to improve low-light visibility, and we provide easily accessible, lockable dry storage compartments adequately sized to fit Pelican cases. Through numerous enhancements, these vessels have been mission-optimized to an extent not seen on the industry's legacy patrol boat designs. The result is a boat that is more comfortable, practical, and safer to use during long hours spent policing our nation's often crowded inland waterways."
By Jake Frith