HAROPA - Port of Le Havre has selected a consortium of companies to carry out maritime construction works to accommodate offshore wind business.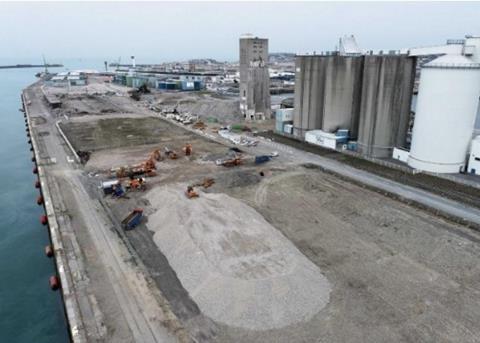 Harbour redevelopment works are needed to accommodate implementation of its offshore wind project and a blade manufacture and assembly plant to be built by SGRE. The port selected the consortium comprising Eiffage Génie Civil, ETMF, ETPO, NGE Fondations and SDI to carry out the maritime works at the Joannès Couvert quay.
To handle the extraordinarily large and heavy components used in wind power (blades nearly 100 metres long and cargo loads weighing 800 tonnes), the Joannès Couvert quay needs modification work to increase its capacity to 25 tonnes per square metre.
The port has commissioned works including the creation of two berths along 400 metres of the current quay.
The upper part of the current quay will be cut to a height of four metres. A reinforced concrete slab will be supported on metal piles and the lower part of the existing structure in order to strengthen it.
Execution of this project will require around a hundred 30-metre-high metal piles over two metres in diameter and more than 500 bored concrete piles over a metre in diameter.
Construction of these two quays also involves work to reinforce the bed of the Théophile Ducrocq basin. At the base of the quay, a layer of aggregate will be laid to reinforce the seabed.
Xavier Mony, CEO of Eiffage Génie Civil said, "This is a proud moment for a company long established in the region, to be chosen to carry out a project on this scale, which reflects its expertise in maritime and river construction and is also an opportunity to contribute to the development of low carbon energies in France."
The works represent an investment of €64.9 million and form part of HAROPA - Port of Le Havre's €123.6 million global port redevelopment programme, backed by the French state, the Region, the Le Havre Sein Métropole Urban Community, the city of Le Havre, and the Le Havre Chamber of Commerce and Industry. The works will run for a period of 84 weeks from signing of the contract.
By Jake Frith