Samskip has been named lead partner in a project seeking to bring to market emissions-free, autonomous container ships that also operate at a profit.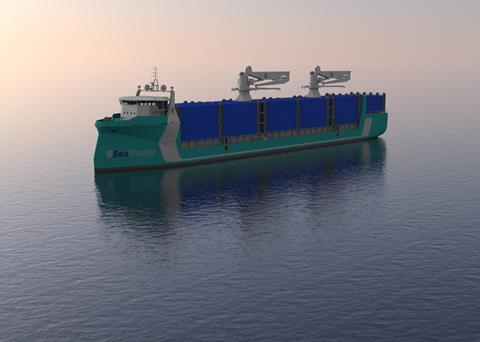 The multimodal operator's involvement in the 'Seashuttle' project comes as the Norwegian government has awarded €6m to the project to take forward development of two all-electric ships designed to connect Poland, Swedish west coast ports and the Oslo fjord. The vessels will be powered using hydrogen fuel cells.
"Samskip is delighted to take the lead in the project to develop next generation sustainable shortsea shipping," said Are Grathen, managing director of Samskip Norway. "What distinguishes this project and will be key to its success is the combination of fuel and technology that will make it cost competitive with existing solutions."
Door-to-door services
The shipping industry can move towards sustainability by door-to-door services that provide cost-effective and scalable competition with truck-ferry options, feeding into a pan-European distribution network, he says. Automation of key shipboard activities would also bring cost savings. "Exporters increasingly seek lower and even zero emissions transport solutions, but they need to be assured on reliability, frequency, efficiency and cost effectiveness."
Once operational, there is no reason why zero emissions ships should not target the 2,000 truck loads passing through Norwegian ports every day, he adds.
Currently, the project envisages zero emissions during 20% of a round trip between Poland and the Oslo Fjord – sufficient for all operations in Norwegian waters. This proportion is expected to grow as more stations fill hydrogen along the route.
By Rebecca Jeffrey