Australia-headquartered AtoN specialist Sealite has introduced a new high intensity LED Range Light, which provides over 420,000cd and, the company claims, has a visible range of over 23NM.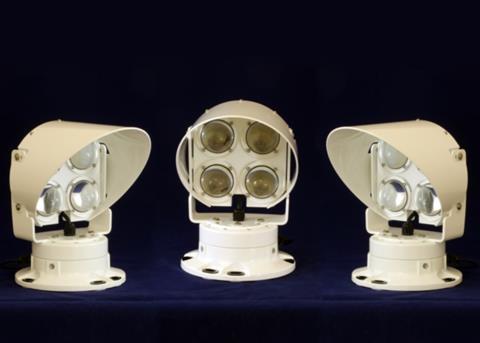 A range, port entry or leading light system can be used to identify a safe line of approach for vessel operators entering a channel.
The high-powered light is suitable for day and night time use, and is available with a range of lens divergence angles to suit varying locations.
With less than 30watts operating power, the light is extremely efficient and will typically consume less than 1/10th the power of traditional fixtures. This makes solar power configurations feasible, in addition to a host of other benefits that LED technology now permits - such as reduced maintenance costs through their long operating lifetime.
The Sealite Range Light is also ready for immediate interfacing with AIS Type 1 or Type 3 systems, as well as GSM facilities for remote monitoring and control, and has alarm relay contacts for remote monitoring to alert to fault conditions. An external light sensor may also be connected for installation flexibility.
Programming is achieved via Sealite's convenient PC configuration tool. The user simply connects their PC to the lantern via a built in weather-proof port eliminating the need to open the unit. Scalable intensity settings and over 256 standard and custom flash codes may be selected, in addition to advanced features such as multiple day/night/twilight settings and switching between internal and external photo-cells.
The LED Range Light is the latest addition to the Sealite line of high-intensity navigation aids which now span high precision PEL sector lights, 19NM omnidirectional beacons, and LED light-sources for lighthouse modernisation.
By Jake Frith