MPI's wind-turbine installation vessel (WTIV) is undergoing installation of leg extensions at the company's Tees Offshore Base in Middlesborough, UK.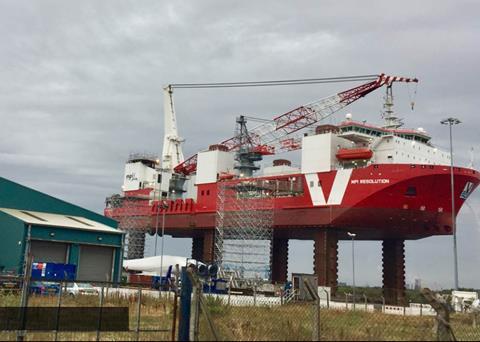 This means the MPI Resolution will be able to operate in water depths of up to 35m, depending upon the site-specific data.
The modification works started in mid-September and are being undertaken by local fabrication and engineering firm Wilton Engineering Services. While the vessel jacked alongside to deck height of 25m above the quay.
MPI Resolution is designed to transport, lift, install and decommission components. The vessel's dynamic-positioning system, jacking system, 3,200m2 deck space, accommodation facilities and 600Te lifting capacity make it an efficient, effective and well-proven vessel.
Last year, MPI Resolution underwent an upgrade to full DP II classification, enhancing her operational capabilities.
The possibility to install leg extensions was foreseen during construction, with vessel design accommodating this option.
These latest modifications will increase MPI Resolution's capacity even further and demonstrate how MPI Offshore is continuously evolving to cater for the demanding and changing offshore-wind market requirements.
By Alice Mason