Transport Malta has identified lessons after a tug crew member was seriously injured in a fall from his vessel to the quay.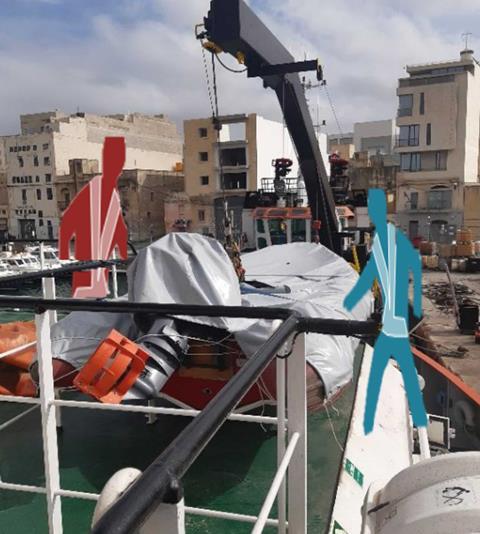 Seafaring always has been, and probably always will be hazardous, this accident illustrating how procedures considered routine, even when alongside carry potential risks including the not unusual finding that a number of contributing factors can combine leading to accidents with such routine procedures.
The tug was alongside a wharf with two crew tasked with changing the cover of its rescue boat located on the accommodation forward of the wheelhouse. One crewmember stepped on the unprotected outboard side of the rescue boat, using the drenching curtain pipe as his footing to ease the hoisting arrangement tension, release the hook and pass the lifting slings through the new cover's opening. There then followed a sequence including where various controls for the lifting arrangement were operated but the crewmember involved activated the crane's slewing mechanism which dragged the boat outboard pushing the crewmember horizontally where he fell on to the wharf. His injuries included several broken bones and lacerations requiring surgery and he was discharged from hospital 13 days later.
The investigation by Transport Malta's Marine Safety Investigation Unit included a detailed technical examination of the crane's hydraulic and operating system and concluded the slewing mechanism was activated accidentally leading to the fall. It established that a risk assessment was not considered necessary for the task and identified that the crewman moved outboard where no guard rails were fitted and was not wearing a safety harness or helmet. It concluded the crew members were not entirely familiar with the davit operation and that during drills only the engineers actuated the davit's controls and was always carried out from the local control station. An issue with the slewing mechanism was also identified.
The tug's owner has initiated several safety actions including reviewing employees' knowledge, implementing a training plan for both crew and shore personnel including third-party training and a risk assessment review. A number of recommendations have been made including the addition of warning tape, fixing of rescue boat launching procedures and consultation with flag state and class on installation of a remote operating mechanism at the rescue boat launching position for the slewing system ball valve.
By Peter Barker