Oceanographic research vessel 'Marion Dufresne II' is celebrating her 20th anniversary in 2015 and has recently finished a major refit that will extend her life for a further 20 years. Electrical system integrator Alewijnse Marine Systems has successfully completed the electrical conversion.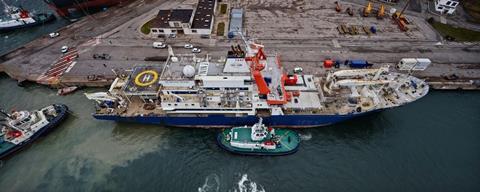 The Marion Dufresne II is owned by L'Institut polaire français Paul-Emile Victor (IPEV) and Les Terres australes et antarctiques françaises (TAAF), and is managed by CMA CGM. Named after the French explorer Marc-Joseph Marion du Fresne, the vessel carries out oceanographic research under the direction of IPEV. The 120.5 metre (395.3 ft) vessel is equipped with a full suite of geophysical facilities and has unique capabilities for raising long sediment cores, up to 60 metres in length.
Besides her research capabilities, the ship acts as a supply and logistic vessel for the French sub-Antarctic islands, with accommodation facilities for 104 scientific researchers and 46 crew members. The Marion Dufresne II was constructed by Ateliers et Chantiers du Havre (Normandy) and delivered in 1995. She is registered in the port of Marseille, France, and is based at the Port of La Réunion.
During a four month stay at Damen Shiprepair Dunkerque from April to July 2015, the French scientific research vessel Marion Dufresne II underwent a major refit that included extensive work on her hull, machinery, public spaces and scientific equipment.
Alewijnse Marine Systems and Damen Shiprepair Dunkerque, part of Damen Shiprepair & Conversion, have enjoyed a close working relationship for a number of years. The contract for the Marion Dufresne II was the most recent in a series of large electrical servicing and maintenance projects for various sophisticated vessels that the two companies have undertaken together.
Damen Shiprepair Dunkerque was very positive about Alewijnse's performance on board Marion Dufresne II. Assistant Project Manager Sebastien Gosselin stated that: "Alewijnse worked well and fast. As always we compared them with two other companies when soliciting bids and they once again offered the best price / quality ratio together with excellent performance and reliability. The highly professional Alewijnse staff did an excellent job on board. I could not have wished for better."
Alewijnse, a global organisation with 125 years of experience in marine technology, assembled a strong team of electrical technicians to work on the wide range of electrical systems on board the vessel. The tasks included the overhauling of a number of electrical motors and the electrical disconnection of an A-frame.
Alewijnse was also responsible for the installation, connection and pre-commissioning of a new capstan winch installation and a watertight door, the cleaning of transformers and the inspection of 24V DC battery chargers together with their batteries. The disconnection and reconnection of the navigation lights and handling booms was also part of the assignment, along with the inspection of the onboard uninterruptible power supply (UPS) system.
By Jake Frith