A new off load release crane hook, developed for launching inflated liferafts, has been introduced by Seawork exhibitor Henriksen Hooks of Norway to meet a demand in the survival craft industry.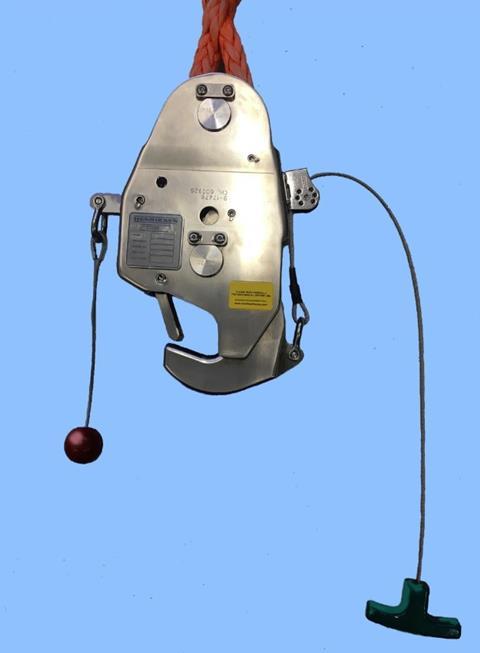 The new hook is permanently attached to the fall wire of a crane and clips into a steel lifting ring on the liferaft. It holds the liferaft safely while it is being hoisted out and lowered and opens automatically when the raft is on the water and the load has come off it. This is useful for a range of applications including for escaping ships, oil platforms and wind turbine towers.
Versions of the hook are available for holding loads of 1500kg and 3500kg and feature a number of safety options that make them reliable and easy to operate in an emergency. To activate the automatic release facility, a liferaft occupant pulls a red knob downwards when it is just one or two metres above the water. This raises a black ball on the top of the hook to indicate that the release mechanism is active. Once afloat and the load on the hook is less than 30kg, it opens automatically enabling the raft to drift free and for the fall wire to be hoisted in.
If conditions are such that it is not possible to use the automatic release capability, the Henriksen hook also offers a manual opening facility that can be used as long as the load on it is no greater than 150 kg. This might occur if the raft is on the water but is being pulled by a strong current or by vessel movement. Under these circumstances, a green knob on the hook can be pulled strongly and the hook will open.
When the crane operating crew has recovered the hook, it can be reset quickly and simply for re-use by pulling the black knob down to its original position. With the hook element reset it can be clipped into the steel lifting ring on the next liferaft for launching.
By mastering the metallurgy and ergonomics of lifting hooks, H Henriksen claims to have become known as the first choice for military or workboat operators seeking the reassurance of totally safe and reliable hooks that also offer the benefit of a long working life.
The innovative Norwegian company also presented its new on load release disc type towing hook, as covered in last month's MJ, to much industry interest and acclaim at the show, along with its existing products.
By Jake Frith