Fischer Panda UK will be introducing its new lightweight and compact 5000i Neo to the commercial marine market at this year's Seawork 2017.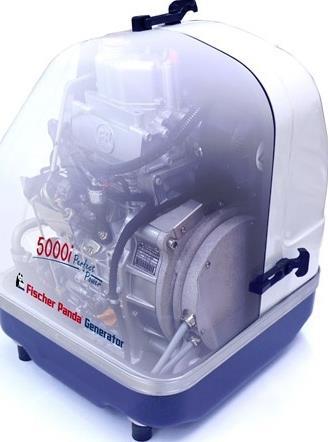 The generator is rated at 4kW/5kVA and uses the new quiet running FPE320 single cylinder diesel engine and is claimed to be the perfect generator option for small to medium sized workboats that need a dependable quiet power source from as little footprint as possible.
Auto-start enabled, the generator offers an electronically controlled variable speed output, which the manufacturer says ensures a stable pure sinus wave, perfect for powering all sorts of sensitive equipment. This extremely compact generator is part of the innovative iSeries variable speed range which is now Fischer Panda's flagship range of highly efficient quiet running generators.
Options are available to parallel connect multiple iSeries generators with different outputs to create a combined power system, ideal for vessels that require load-sharing and a redundancy type system.
See the new 5000i Neo at Seawork International 2017, where it will be on display on stand PG79 alongside other products from Fischer Panda, BellMarine Electric Propulsion, HRO and Sea Recovery/ Village Marine water maker systems.
By Jake Frith