In recent years Wind Farms have been constructed in deeper waters than ever before. This has led to a greater need for vessels to operate in tougher conditions and at higher speeds.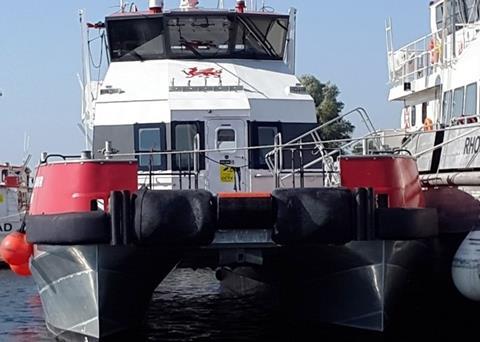 Vessel owners are therefore focusing on reducing operational costs, particularly in terms of fuel consumption. Manuplas has developed lightweight vessel fendering systems which are up to 60% lighter than traditional rubber D fenders. These fenders help to improve speed and fuel consumption of wind farm vessels and crew transfer monohulls/catamarans. Such lightweight fender systems are also proving popular for a range of other vessels which operate at high speeds in challenging maritime conditions including high speed interceptor vessels, lifeboats, military vessels, patrol boats and search and rescue vessels.
The fenders are manufactured from a cross-linked polyethylene foam with a non-marking spray applied polyurethane elastomer skin.
Manuplas lightweight, sprayed fenders are often supplied as a modular configuration which makes it easier, quicker and more cost effective to replace worn or damaged sections. Vessel service downtime is therefore also reduced dramatically.
Greg Hue, Global Sales Manager for Manuplas Marine and Fendering Products says: "Attending our fifth Seawork Show will be a great opportunity to show the market our latest leading developments for lightweight fender solutions. We are also pleased to hear that some of our customers will be displaying vessels on the Seawork pontoon which will feature Manuplas fendering".
Visitors to the Manuplas stand at Seawork will be able to see other products from the Manuplas range on display including rubber fenders, foam-filled floating fenders and a range of surface buoys such as mooring and navigation buoys.
Visit Manuplas at Seawork International 2018 on stand PY13