Lindenau Werft in Kiel has completed six months of renovation and repairs on the 72 year old former German rescue boat Hindenburg.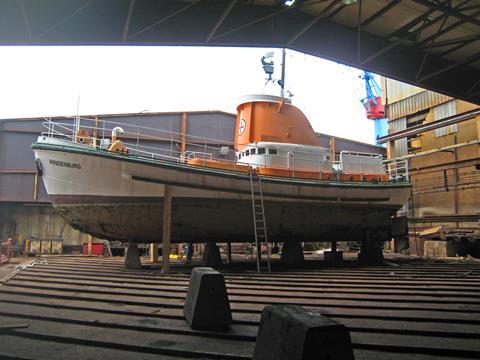 The 17.5m long and 5m wide Hindenburg was the country's biggest sea rescue cruiser when it went into service in the 1940s.
A spokeswoman for Lindenau Werft told Maritime Journal the thickness and porosity of the 17.5m long and 5m wide boat's steel hull was checked. Some plates on the external hull were replaced so that Hindenburg could continue to float at its permanent mooring. The Lindenau spokeswoman said the boat had also been painted overall and its water ballast had been swapped for fixed solid ballast.
After the yard stay, the veteran, no longer able to sail under its own steam, had to be towed by tugs to rejoin other historic boats berthed in the Port of Kiel's Museum Harbour where it has been moored for more than 30 years.
The boat was completed at the Pahl Shipyard in Hamburg-Finkenwerder in 1944. It is said to have saved 800 lives during its service and was rated the biggest sea rescue cruiser on the German coast in the1940s. It remained one of the biggest boats serving with the German sea rescue service DGzRS until it was mothballed in 1979. The DGzRS Hanseatic cross emblem can still be seen in the photo – which was taken before the boat was repainted but after growth was removed from its hull.
The Mercedes -Benz engine in the boat at that time has not been activated since that time. Originally, reports said, the boat was equipped with two150hp engines of unspecified type.
Berthed with Hindenburg in the Museum Harbour are two further vintage boats – the fire-fighter Kiel and the buoy layer Bussard. Kiel's Maritime Museum, which is on the Museum Harbour quayside houses the 8.07m Brandtaucher built in Kiel in 1850 by Wilhelm Bauer and the world's first working submarine.
Meanwhile there are big hopes along the coast in Hamburg that restoration might start this year on the 88 year old former police steam launch Otto Lauffer. The 17m boat has been on blocks at Blohm + Voss Shipyard since 2011 after stabilisation and interior gutting. The yard last restored it in the early 1980s.
The Bundestag Budget Committee in Berlin approved €400,000 out of its monuments fund for the restoration of Otto Lauffer last year. Hamburg's Economic authorities have added another €400,000 to that and cultural authorities have put up €90,000.
Originally called Hafenpolizei V1 the boat became Germany's first museum steamboat in 1969. It will go to the city's Övelgönne Museum Harbour after any restoration, which reports said could take at least a year and include a costly steam engine replacement.
By Tom Todd