Peel Ports' £400 million Mersey investment Liverpool2, has been officially opened at the Port of Liverpool, UK by the Secretary of State for International Trade, Rt Hon Dr Liam Fox MP.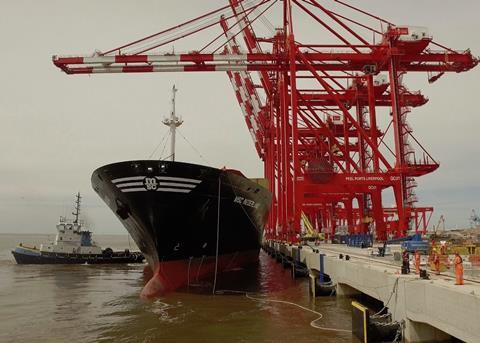 The new deep water facility will complement the existing Royal Seaforth Container Terminal at the existing Port of Liverpool, with each terminal having capacity to handle around 1 million containers per annum. The Port is already the country's biggest transatlantic port (45% market share) and the only major container port in the north or west of the UK.
Liverpool2, which is one of the UK's largest private sector infrastructure projects, was developed in response to changing trading patterns and shipping industry trends towards the use of 'mega' ocean-going container ships. Liverpool2 will now be able to handle the biggest cargo vessels in the world.
Mark Whitworth, CEO of Peel Ports said: "Liverpool 2 will create a new trading gateway in the UK. We are already exploring and succeeding in creating new opportunities for UK exporters, having recently signed a significant Memorandum of Understanding (MOU) to create a strategic alliance aimed at facilitating international trade and generating new business by promoting trade routes between Liverpool and the west coast of South America via the Panama Canal."
Liverpool currently has around 8% of the container market in the UK. Peel Ports hopes that this figure will now rise to between 15% and 20%.
By Jake Frith