A project with European involvement will see LNG bunkering services in the US provided by an articulated tug and barge unit (ATB).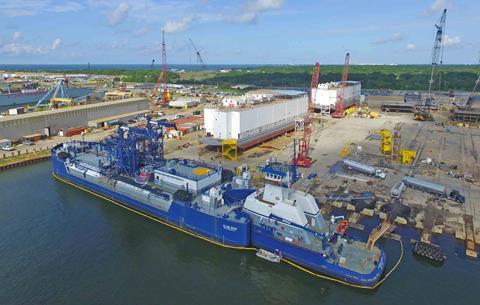 As the number of ships powered by LNG increases so does the demand for LNG bunkering services. The bunkering of conventionally fuelled ships favours the mooring of a barge alongside the ship while in port working cargo, a model being adapted for LNG with sophisticated bunkering tankers built specifically for the task. This development from New Orleans-based Q-LNG Transport provides the flexibility of ATB units, an established method of cargo transportation in US waters.
The 128' long tug element, named Q-Ocean Services and designed by Jensen Maritime fits into the stern of the 4,000m3 capacity, 324' long barge unit designed by Waller Marine. VT Halter Marine carried out detailed design under mutual agreements.
The tug is powered by twin 2,548hp Wabtec 6L250 MDC EPA Tier 4 and IMO III compliant main engines driving Wärtsilä Z-drives and providing a bollard pull of 65 tons and speed 10kn. The ABS-classed ATB has DP1+ notation with accommodation for up to 12 crew including those operating the bunkering element of the operation. Diesel fuel capacity for the tug is 105,686 gallons, the barge having capacity for 13,890 gallons. Two reverse osmosis water makers supply 2,000 gallons of fresh water per day.
Both tug and barge have large power demands which are met by no fewer than nine Cummins auxiliary engines. Two QSM11-DM engines powering gensets on the tug are fitted with through shafts that can also run fire pumps including those supplying off-ship monitors. The gensets are complemented by a QSB7-DM harbour generator with another QSB7-DM powering an emergency generator. The barge has five QSK19-DM 450kW generators powering four mooring winches and two hose handling cranes. Two stores cranes, one forward and one aft are included and a ballast water treatment plant is supplied by Wärtsilä.
The ATB meets US flag requirements along with the IMO International Gas Carrier Code and the ATB combination will be employed servicing vessels including cruise ships in Florida and the Caribbean. Initial customer will be Carnival Cruise Line's two new dual-fuel cruise ships along with two Siem Car Carriers vessels under charter to the Volkswagen Group transporting vehicles from Europe.
By Peter Barker