BMT Nigel Gee has secured a new project to design two 70m aluminium-hull catamaran RoPax ferries for Dutch company Rederij Doeksen.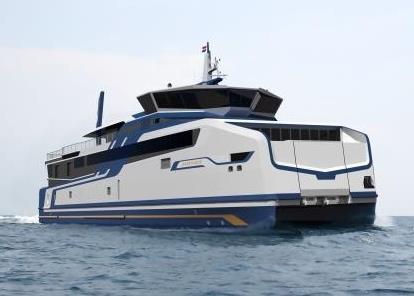 Both vessels will be built by Triyard Holdings subsidiary, Strategic Marine in Vung Tau, Vietnam.
They will serve the Friesland Islands connecting Harlingen, Terschelling and Vlieland in the Netherlands.
Ed Dudson, technical director of BMT, said: "This is an incredibly exciting project for us to be working on - to develop these vessels with such low emissions to operate in the Wadensee is a fantastic opportunity."
"The vessels will be built in aluminium to minimise weight, thereby further reducing emissions. They will be the first passenger vessels to have the new MTU 4000 series gas engine installed. Bow thrusters will be run from stored power, recharged from shore power."
The vessels are single fuel LNG with the main engines and generators running off the LNG supply. Vessels will offer lower emissions with a 30% reduction in CO2 and a 100% reduction in NOX/SOX.
It will have the capacity to accommodate 60 cars and 600 passengers, the vessels will be designed to interface with existing port facilities, boast wind generators and solar panels.
Mr Dudson concluded: "At 70m long with a 17m beam, the vessels will also have a very low operating draft of 2.5m to facilitate operating in the Wadensee, an area of particularly shallow water. Manoeuvrability will be excellent with the use of Azimuthing thrusters."
The vessels will enter into service in April 2018.
By Alice Mason