Upgrade work on the Lochmaddy Pier used for the Calmac ferry service on North Uist, Scotland, is scheduled to start after £10m contract for dredging and construction work was awarded to L&M Keating Ltd. writes Dag Pike.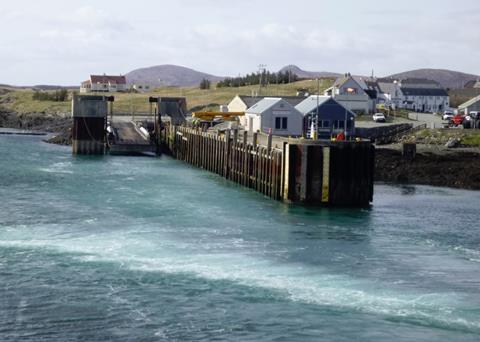 The marine, civil engineering and building company was handed the contract by Comhairle nan Eilean Siar to carry out upgrade work at the site. Following the announcement in 2015 of the decision to replace the ferry MV Hebrides, the Comhairle as the harbour authority for Lochmaddy Pier have been working with Transport Scotland, Caledonian Maritime Assets Ltd, CalMac Ferries Ltd and The Highland Council in the identification and delivery of infrastructure improvements required at the port and also at Tarbert (Harris) and Uig (Skye). The upgrade work is part of the £60m Skye Triangle Infrastructure Project, which involves significant harbour upgrades at the three ports at Tarbert, Lochmaddy and Uig.
Keating will be responsible for completing all civil engineering works for the harbour upgrade project, including pier strengthening and extension, upgraded fendering, land reclamation and seabed dredging. The dredging will maintain the required depth of water alongside the pier for the new ferry and the work includes the disposal of dredge arisings.
A major part of the contract will entail the construction of a concrete caisson off site, the transportation of this caisson to the site and its placement to form an extension to the existing pier, with some of the dredging spoils being used for infill. Additional work will be the repair and strengthening works to the existing pier, including steelwork and reinforced concrete plus the link to the new caisson. Other work includes the design and provision of a new pier fendering system, supported by piling, steelwork and reinforced concrete and the design and provision of cathodic protection system to steelwork and provision of cathodic protection to concrete structures. Additional work will be carried out onshore.
The work is expected to be completed in spring 2021 and the ferry will continue to operate whilst the work is in progress.
Minister for energy, connectivity and the Islands, Paul Wheelhouse said: "I am very pleased to see the planned upgrade of Lochmaddy Pier moving forward with the award of this contract, following the recent award of the contract for construction works at Tarbert on the Isle of Harris."