Fjord1 is using low energy consumption davit from Vestdavit in its latest all-electric ferries, which have been designed with sustainability in mind.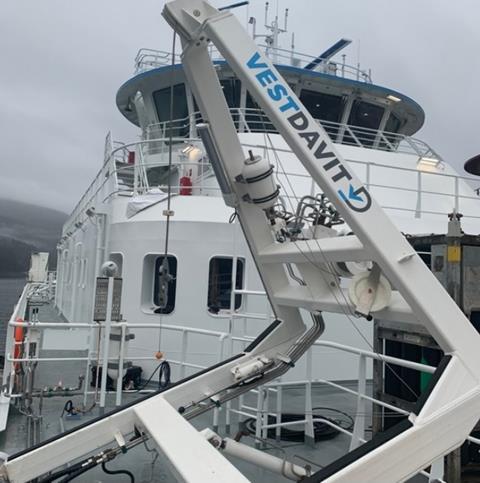 Vestdavit's PL-1500 MOB boat single point davits are on board the high-profile, battery-powered ferries being built for Fjord1. All three environmentally friendly ferries have been handed over to the owner and are now operating in sensitive fjord waters.
The Havyard Group-built vessels are facilitating a complete revitalization of Hareid-Sulesund services which transport close to 850,000 vehicles across Sulafjord every year. Their integrated electric power, automation and propulsion package has been devised to align with environmental objectives set out by the Norwegian Public Roads Administration.
It is claimed that these 400-passenger, 120-car capacity ferries consume an amount of energy equivalent to just nine medium-sized electric cars. Accordingly, the energy efficiency theme runs throughout their design, build and operating profiles, with a Ship Performance Monitoring system collecting energy consumption data from every consumer on board for presentation at crew workstations. Fully SOLAS-approved, lightweight PL-1500 MOB boat davits from Vestdavit are optimized to achieve low energy consumption across the full range of boat launch and recovery operations.
By Jake Frith