Belgium based dredging giant Jan De Nul''s fourth Ultra-Low Emission vessel (ULEv), the trailing suction hopper dredger'' Sanderus'', has arrived in home waters to commence maintenance dredging of Flemish ports under the authority of the Flemish government.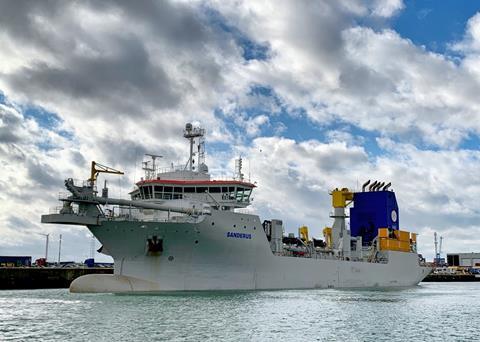 Sanderus was built in Singapore and left the shipyard in January following successful offshore trials. It is JDN's fourth ULEv to be launched within the past year. Another three major vessels with the same technology are under construction.
The 111.7m LOA Sanderus has a loaded draught of 7.2m and a hopper capacity of 6,000m3, which makes it an ideal vessel for maintaining the navigational depth in the marine access channels to Flemish ports over the next two years. It can dredge to depths of 35m through a single 1,000mm diameter suction pipe and sail at 12.5 knots.
With its Ultra Low Emission vessels, the Jan De Nul Group is aiming to achieve much better air quality. These vessels are equipped with a catalyst that renders nitrous oxides harmless and with a soot filter which catches the finest particulates. As several of these pollutants also affect the climate, post-treatment also ensures a reduction of greenhouse gases.
The director of JDN's international division, Mieke Fordeyn said: "In a business as usual scenario, air pollution would be responsible for 8.8 million deaths per year worldwide. Shipping has a partial responsibility in this area. Even if the dredging industry accounts for only 0.1% of the total emissions of global shipping traffic, we feel personally involved in this issue and regard it as one of our core missions to do something about it."
To that end, Jan De Nul is aiming to go for 100% renewable fuel for its maritime fleet. Since the end of last year a first trailing suction hopper dredger has been sailing in Zeebrugge on 100% biofuels and JDN is now considering switching other dredging vessels to certified sustainable substitutes for fossil fuel.
The Group's head of energy, Michel Deruyck said: "Such a renewable fuel offers the huge advantage that engines must not be adapted so that the fuel can be used immediately. As this solution makes use of biological waste flows as raw material, it is also beneficial to the circular economy."
By Larz Bourne