Micro turbine generators are more expensive and not quite as fuel efficient as diesel units, but with only one rotating part they can be smaller, quieter, lighter and require less maintenance.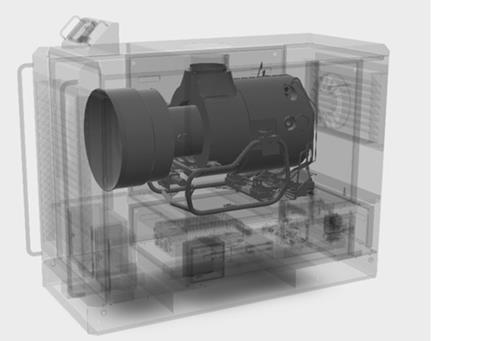 RH marine, recently fitted motor yacht 'Istros' with a micro turbine for its on-board power generation. The technology has recently received Lloyds Register classification for maritime use. This makes the refitted ship cleaner, quieter and more comfortable, while it can meet the strict emission standards in all ports and coastal waters. It is the first motor yacht in the world to be fitted with such a unit.
The Capstone DC 65-D Micro Turbine DC generator, supplied by maritime system integrator RH Marine runs at a very high speed, thus producing less vibration and noise than a conventional diesel generator. Moreover, it is relatively small and lightweight and takes up little space.
In comparison with a conventional diesel generator, the micro turbine requires very little maintenance. There is only one rotating part that is air-bearing. This makes a number of systems unnecessary, such as lubricating oil and cooling water, that require maintenance in case of a diesel engine.
Micro turbines are widely used in the aviation and offshore industry. The reason they have not been installed on yachts before is because there has been no marine certification so far. RH Marine has adapted the micro turbine in such a way that it has been approved by Lloyds Register for maritime use. "Together with Seven Turbine Power we form a consortium that is the only one that can supply a micro turbine with marine certification. That gives us a leading position in the market," says Post.
The micro turbine is now slightly pricier and uses slightly more fuel than a conventional diesel generator, but that is more than offset by lower maintenance costs.
RH Marine has developed the revolutionary micro turbine for the maritime industry in a partnership with Feadship, Seven Turbine Power and Boskalis. It can run on a variety of fuels, such as marine gas oil and LNG, and can be integrated with hybrid battery packages that RH Marine supplies. In combination with its own Energy Management System, this can lead up to 10 percent of fuel savings says RH Marine.
By Jake Frith