Tasmanian boatbuilder Incat Crowther has recently announced the launch of 'Cockle Bay' and 'Blackwattle Bay', a pair of 12m ferries for Sydney's Bays Precinct area that fill a role somewhere between that of a ferry and a water taxi.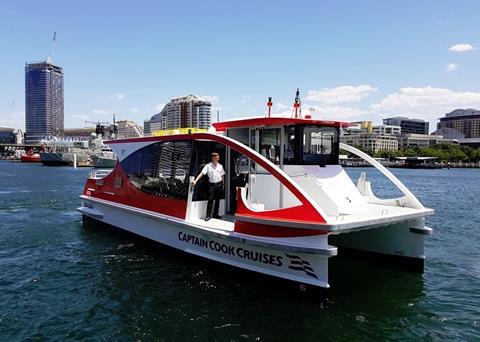 Designed for low capital and operating cost, the new class of low impact ferries also generate extremely low wash. The size of the vessel was selected to perform the role of a water taxi, offering services on a more on-demand basis than can be performed by larger, traditional ferries. The vessel also features very low draft, making it capable of serving Bay Precinct areas previously overlooked by traditional ferry services.
The vessels will be operated like a traditional bus service, with an on-demand, hop-on, hop-off service. The main cabin features 30 seats, with large sliding doors aft leading to an exterior space of 15 seats. In additional to the fixed seats, the vessels can accommodate 15 standing passengers.
Cabin ventilation is by specially designed and positioned dorade boxes that capitalise on cool sea air at water level. The bold move of rejecting air conditioning eliminates the need for a generator and keeps the vessel's weight, fuel burn and cost to a minimum.
The vessels are fitted with a pair of Cummins QSB 6.7L main engines, driving Twin Disc gearboxes. With their optimised hull forms and efficient structures, Cockle Bay and Blackwattle Bay can operate at 18 knots with incredibly low fuel usage and are capable of a top speed of 24 knots.
By Jake Frith