Danish marine engineering solutions provider MacArtney Underwater Technology's German subsidiary, MBT GmbH, has manufactured a turbidity monitoring buoy intended for deployment for accompanying environmental monitoring during dredging.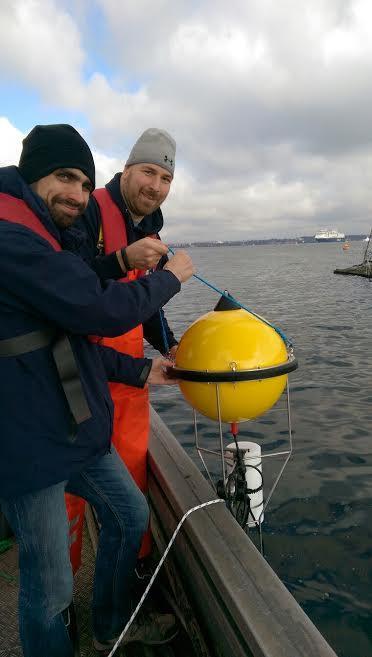 Being deployed as a surface buoy, the compact sized, autonomous buoy system is intended for determining turbidity in coastal areas. It consists of a yellow buoy corpus made from durable GRP, a turbidity sensor, a rechargeable battery pack and a data logger with integrated Inmarsat modem.
To fulfil safety regulations, the buoy is equipped with a white flashing LED light being automatically switched on under low light conditions. Transmitting turbidity data every half hour, blinking at dusk and being anchored with a 100 kg weight, it is a buoy intended for long-term turbidity measurements. The system is capable of 14 days of autonomous operation before the batteries need recharging or replacing.
The sensor is protected by a cage firmly attached to the buoyant body. The buoy is equipped with an AQUAlogger 210 TYT turbidity sensor provided with four measuring ranges selected automatically. To avoid biological growth on the optical window, the instrument is equipped with an antifouling wiper.
The buoy and the data acquisition system have an open architecture that allows for integration of other types of sensors like CTDs, fluorometers, etc.
The hollow interior of the buoy contains the satellite modem installed for data transmission. The logger sends turbidity data at a predetermined interval on the satellite modem to the MacArtney developed 'MetOcean Gateway' portal, a web based data acquisition and data storage system that forms an integral part of the buoy system. The buoy is also available with a cellular data transmission system.
"The buoy can be used via the satellite data service anywhere in the world", says Torsten Turla, managing director of MacArtney Germany. "This new piece of maritime technology equipment has come into existence by means of an excellent teamwork between more departments teaming up to succeed in achieving this common goal. So far, one German customer has already taken delivery of 15 buoys."
By Larz Bourne