Macduff Ship Design has announced several new vessels and design contracts, plus continuing work on existing contracts.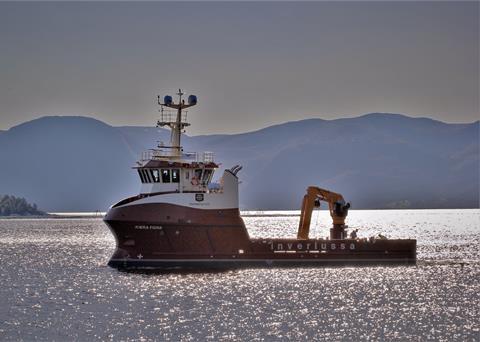 A new 25.5m aquaculture support vessel has entered service on the West Coast of Scotland having been delivered in September to Inverlussa Marine Services. Built by Havyard Shipyard in Norway to plans by Macduff Ship Design, the vessel is designed to support the fish farm sector and can also perform multi-role tasks such as mooring work and towing.
The Kiera Fiona boasts two cranes of 48tonne/m at 18.5m outreach and 100t/m at 22m outreach respectively. It is capable of carrying four 20ft containers on deck or a total of 163t of deck cargo.
Pilot vessel
Macduff has also confirmed delivery of a 12.75m pilot vessel for ABP's Port of Ayr which is designed to carry out full pilot duties as well as assist vessels entering port.
It will operate between the ports of Ayr and Troon and the Scottish West Coast.
The vessel's semi displacement hull form was constructed to optimise performance and seakeeping whilst maintaining its workboat capabilities.
Four fishing vessels
Additionally, four new fishing vessels ranging in size from 19m to 29m have been built by Macduff Shipyards with designs being developed in cooperation between Macduff Ship design and shipyard.
Macduff has signed a contract with Cheoy Lee Shipyard to develop a 14m workboat with capability for line handling and harbour tug duties.
It also has a contract with MMS Ship Repair & Dry Dock to design a 55ft trawler yacht.
The design is being developed by the two companies with production of the first vessel scheduled to start early 2017.
The design is to be certified under the recreational craft directive, a first for Macduff Ship Design.
It is currently in the process of finalising initial design details prior to development of steel cutting data for the whole vessel.
By Rebecca Jeffrey