Magdeburg – Germany's second biggest inland port serving the Elbe River region – is to get a €40 million revamp to link it further to the inland canal network and make it independent of Elbe water levels.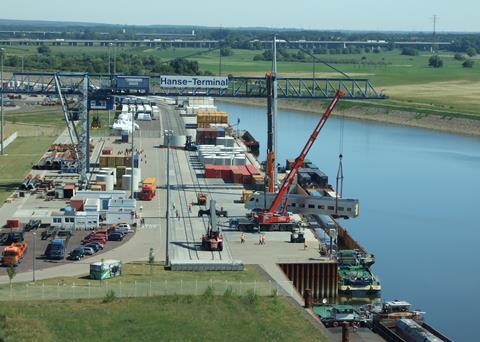 Development funding has just been approved. However Karl-Heinz Ehrhardt, Managing Director of port authority TRANSPORTWERK Magdeburger Hafen told Maritime Journal cash would not be available until December and so it would be "at least a year after that" before plans were complete and construction could begin. If work does start next year it is expected to be completed in 2020.
The German Government, the local state of Saxony-Anhalt and the EU are together putting up the bulk of the extensive redevelopment costs - €36 million – while the city itself is finding the remaining €4 million.
Magdeburg port and its three main terminals are located on the river Elbe some 350 kms upstream from Germany's largest port Hamburg. Hamburg is a main customer and much commercial waterway traffic moves via Magdeburg. That's because Magdeburg lies at the junction of the Elbe and Germany's impressive cross-country canal network.
The Wasserstrassenkreuz Magdeburg – Europe's biggest navigable canal aqueduct - crosses over the Elbe at this point linking the Mittelland Canal in the west and the Elbe Havel Canal in the east. Completed in 2003 at a cost of €500 million it is nearly a kilometer long and 4.25m deep and allows river traffic to sail directly between Berlin and western ports.
The Mittelland Canal is also linked to the Elbe below and to Magdeburg via the Rothensee Lock. The port now also has its own low-water lock which gives access to some of its facilities regardless of water levels on the adjacent Elbe. Those water levels can be notoriously low at times and severely hamper barge traffic.
Since the opening of the port's low-water lock in 2013 both the number of ships calling at Magdeburg's central Industriehafen and annual cargo handling have risen dramatically. In 2015 cargo rose 20% to 4.1 million tons.
The latest planned revamp will mean a 10% handling boost for the port. Karl-Heinz Ehrhardt is quoted as saying "We are not doing this just to stand still".
The scope of works includes construction of a new coffer dam closing off the Industriehafen from the Elbe and the removal of a separator dam. Harbour beds will be leveled, banks straightened out and reinforced and new sheet piling walls installed. New quayside facilities will be made available and a new 3.5m river side service road built.
The project will give the Industriehafen year-round independence from Elbe water levels and expand already well-used warehousing capacities. It will also further improve Magdeburg's freighting links with the European canal network.
By Tom Todd