Oslo-based Miko Marine has unveiled a magnetic sledge that is capable of retrieving small ferrous objects from underwater.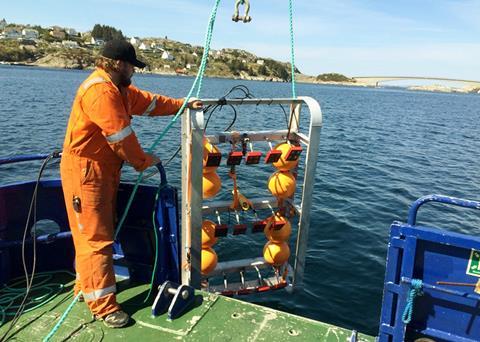 The sledge is made from aluminium and equipped with 10 powerful permanent magnets, when towed over the seabed it can pick up objects that may be covered by sand or silt. This achieves results that would be difficult, or near impossible, for divers to match.
It is capable of working at any depth and can be equipped with a video camera and an acoustic positioning system such as a Sonardyne Scout linked to a GPS chart plotter. This allows it to follow an accurate search pattern and ensure the whole area is covered.
The Miko magnetic sledge One was recently used to successfully recover parts from a Super Puma helicopter that tragically crashed into the sea near Bergen, Norway in April.
The aircraft went down with the loss of two crew and eleven passengers during a flight from the Statoil Gulfaks-B platform. It went into relatively shallow water close to the shore near Turoey and subsequently caused the world's fleet of Super Puma helicopters to be grounded until the cause of the accident is known.
Miko Marine was then commissioned by the Accident Investigation Board of Norway to design and build a sledge that could be used to recover ferro-magnetic debris hidden beneath the seabed around the crash site. Miko engineers were able to design, build and deliver the sledge within four days.
It was operated from a 12m workboat catamaran that surveyed an area of seabed measuring some 400 by 70m, working 12-hour shifts over a period of two weeks ending on the 20 May.
By the end of the search a number of metal objects had been recovered for analysis including the vital components from the helicopter's transmission system.
By Alice Mason