Land & Water has completed works on the largest wetland habitat creation project of its kind on the River Thames and River Thame.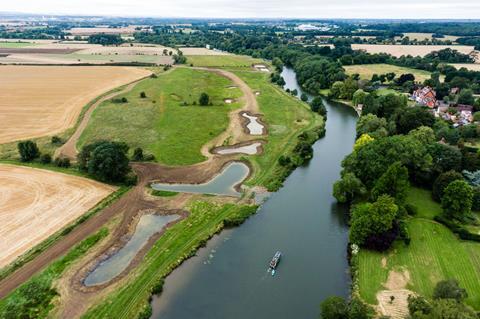 The wet civil engineering firm carried out works on the River of Life II scheme that aims to demonstrate landscape management of water and wetlands and clean rivers, and the importance and value of water to nature and people.
Land & Water's project manager, Tom Cartmel, said: "Having been appointed in 2019 by Earth Trust, Land & Water has been committed towards using its expertise and skillset to ensure this scheme became a reality.
"Not only does this unique wetland landscape support the evolution of local wildlife, it is also plays an incredibly important role in carbon sequestration whilst acting as a natural flood management solution.
"Improving the environmental landscape of the UK's waterways is something that we are very passionate about and so we also used active low-carbon techniques during the construction phase to cut carbon emissions."
Project tackles environmental challenges
River of Life II is a partnership project between Earth Trust, Church Farm Partnership and The Hurst Water Meadow Trust.
Land & Water's project team has transformed four locations along the River Thames floodplain in Oxfordshire, including at Clifton Meadow, Church Farm, Overy Mead and Little Wittenham Wood, through creating 16 ponds, seven backwater channels and 1.6 hectares of woodland covering 46,000m2.
The project has a lifespan and potential legacy that will tackle a number of environmental challenges. The new ponds and backwaters will slow down and filter water by trapping sediments and removing pollutants.
To further support the demonstration and reduce the use of carbon, 47,000m3 of excavated soil was also spread and ploughed on arable fields.