A team working on a construction project at the UK's Port of Dover has uncovered a fossilised mammoth tooth while excavating the Wellington Dock Navigation Channel.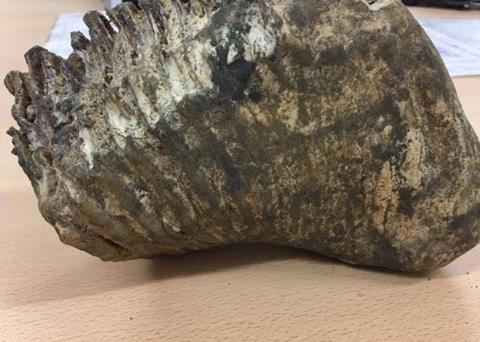 The incredible find was made by the principal contractor's piling supervisor, overseen by the specialist heritage expert, Archaeology South-East (ASE), which is controlling the excavation at the Dover Western Docks Revival (DWDR) construction site.
"It's not clear how the tooth ended up in Dover, but some suggestions include it washing down the River Dour, washing up on the beach, used as some sort of structure by previous inhabitants or even purposely placed as a sacred item," said Josie Sinden, DWDR Conservation Officer, Port of Dover.
Regeneration project
The DWDR project aims to deliver a transformed waterfront to ultimately attract a host of shops, bars, cafes and restaurants with Dover's unique backdrop of the harbour, cliffs and castle.
As part of the project the cargo business at the port will be relocated and developed further with a new cargo terminal and distribution centre.
This will provide greater space within the Eastern Docks for ferry traffic and hopefully, much needed quality employment opportunities for local people.
DWDR is the single biggest investment ever undertaken by the Port of Dover with c. £250m committed for its delivery.
The project scored 'Excellent' for the CEEQUAL Interim Client and Outline Design Award - the evidence-based sustainability assessment, rating and awards scheme that promotes the achievement of high environmental and social performance in civil engineering, infrastructure, landscaping and public realm projects.
By Anne-Marie Causer