The Marine & Coastal Civil Engineering Expo (M&CCE Expo) has rebranded to Marine Civils at Seawork.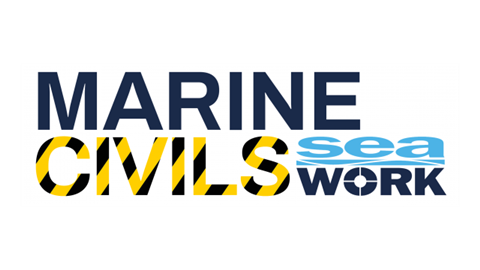 The M&CCE Expo was acquired by Mercator Media Ltd in 2019 and has been successfully produced twice under the Mercator Media banner. The name change is a clear statement to recognise that the Marine Civils sector drives much of commercial marine business activity, while at the same time making the most of the strength of the long established Seawork branding and marketing.
Marine Civils gives exhibitors the opportunity to showcase the latest innovations in equipment and solutions for marine, coastal and other challenging civil engineering projects.
The first Marine Civils online conference will be held 14:00-15:00 on 5 October 2021 as part of the new virtual Seawork Connect. This is a free to attend conference in association with the Civil Engineering Contractors Association (CECA) and will be focusing on the benefits of HVO fuels.
The next 'in-person' Seawork and Marine Civils is planned for 21-23 June 2022.
Seawork & Marine Civils
Seawork is the long established European commercial marine exhibition held in Southampton since 1989. COVID restrictions see the first virtual Seawork Connect 5-7 October 2021. Seawork Connect will become a permanent part of Seawork & Marine Civils, not just because it reaches a larger international audience but because it offers additional features such as videos, rich content, longer exposure and more data-focussed results. The next in-person Seawork and M&CCE exhibition will be held 21-23 June 2022.
CECA
The Civil Engineering Contractors Association is the representative body for companies who work day-to-day to deliver, upgrade, and maintain the country's infrastructure. With more than 300 members split across eight regions, CECA represents firms who together carry out an estimated 70-80 per cent of all civil engineering activity in the UK, in the key sectors of transport, energy, communications, waste and water.