An 83 metre long high-speed trimaran ferry recently got from the production hall to the water thanks to 80 SPMT axle lines.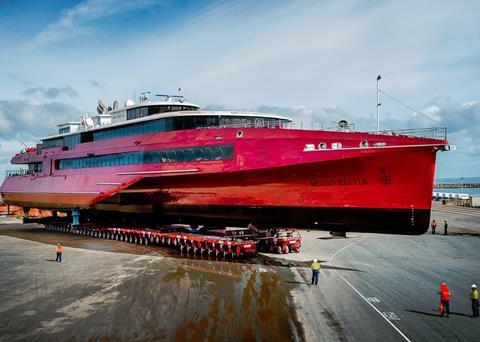 The Queen Beetle, a high-speed trimaran ferry, will soon connect the Japanese city of Fukuoka with the South Korean port metropolis of Busan and will reach a speed of 37 knots (almost 70 km/h) during the crossing. But before it could be used for the first time, the 83.5-metre-long and empty 770-ton ship had to get from the production hall to the water. It was less rapid. This made the demands of the valuable goods in terms of safety and precision all the higher. Austal, manufacturer of the Queen Beetle, commissioned the heavy goods specialists from Tutt Bryant Heavy Lift & Shift (TBHLS) to carry out the transport on the site of the shipyard in Henderson in Western Australia.
The TBHLS experts used two 40 SPMT axle lines (Self Propelled Modular Transporter) from Scheuerle, a company of the Transporter Industry International Group (TII Group), to bring the 1130-ton transport, including the axle lines and transport racks, to the water. In addition, two PPU (Power Pack Units), which also come from Scheuerle, were used to generate the drive power for the two SPMT transport platforms. The SPMT axle lines are part of the vehicle fleet of the Australia Marine Complex (AMC), which manages the vehicles while TBHLS operates them.
By Jake Frith